Happy Holidays Heli family! We've put together a list of the greatest deals in skiing, fishing, and surfing for 2020. Whether you're shopping for yourself, a friend, or a whole group of people, we've got a whole line up of epic trips.
1. Bella Coola 25% Off Late January Heli Skiing
We've got an epic deal for up to 6 skiers to join the Heli team at Bella Coola in late January. This package is marked down from CAD$7380 to CAD$5600 (USD$4,213) and includes 4 nights and 5 possible days of private heli skiing. Couple that with some great amenities, and you're talking about an epic trip that doesn't break the bank.
2. Silvertip Full Lodge Available March 24-28
Silvertip just became available for March 24 – 28. It won't last long. Typically, Silvertip is fully booked by the start of the year. Get it while you can, and bring the whole crew.
3. 30% Off At The Delphi Club, Bahamas
Beginning January 4th, the Delphi Club is offering 30% off all accommodation through February 20th. As cold weather starts to permeate throughout the Northern Hemisphere, we can't think of a better time to take advantage of this epic deal.
Click the button below for all the rates, dates, and info you need to make this happen. Once you're there, hit us up in the chat feature to have any questions answered immediately!
4. Kingfisher Mentawais 15% Off All Inclusive March Trip
Kingfisher Resort is the ultimate destination to relax and switch off from the routines of everyday life. Whether you're a barrel-hunting surfer looking for the best waves in Indonesia, or just an adventurous traveler wanting to enjoy paradise far away from the crowds, Kingfisher Resort is for you. Take 15% off this epic trip to the beautiful Mentawais. Luxury lodging and chilled vibes are the name of the game at this lodge on a beautiful Indo-Pacific break.
Check out the package through the button below or contact our surf expert Caylin for any questions or booking inquiries.
5. Tordrillo Mountain Lodge 10% Off Week
That heli skiing trip to Alaska just got a little bit closer. We have an exclusive offer for up to 13 skiers to stay at the iconic Tordrillo Mountain Lodge in Alaska. If you book through Heli in the next few weeks, we can offer 10% off for the prime week of March 14th to 21st for groups of 8 or more.
6. VHSG Under 35 Young Guns 25% Off Week
Calling all the Young Guns (35 & under) out there. There's no one who hasn't dreamed of a heli skiing trip in Alaska. Gigantic mountains, monster spines, high end lodging, and endless powder now at 25% off with Valdez Heli Ski Guides. This is a private package, only available through Heli and the link below. Smash the button for all the info on this incredible package.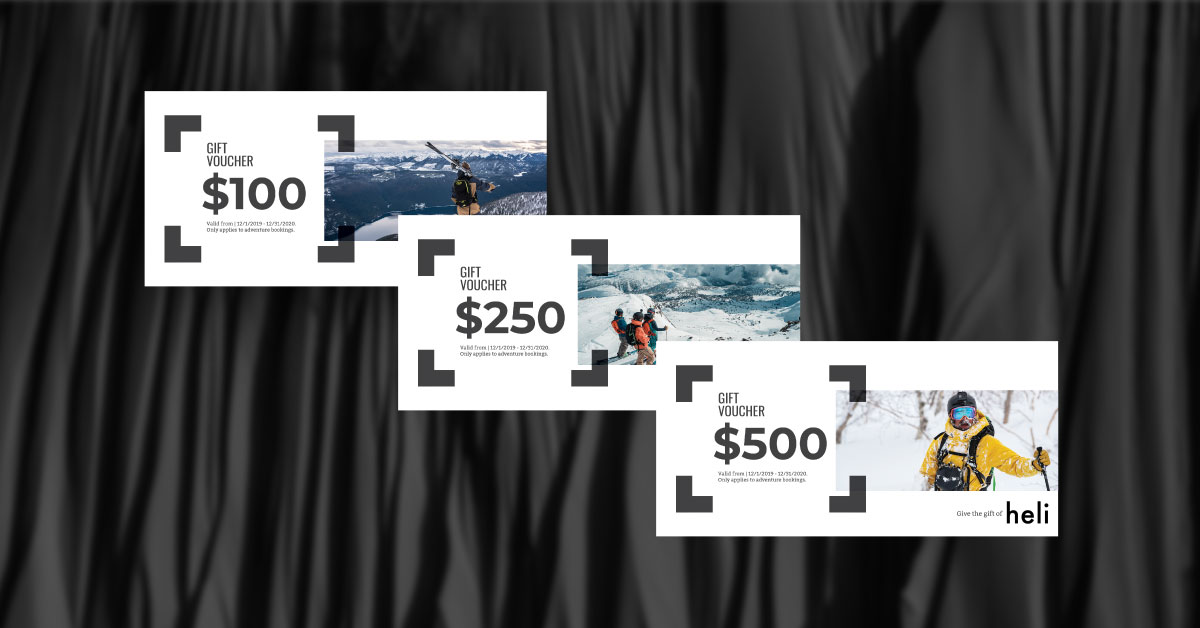 7. Heli Gift Card
Give the gift of Heli this season. Know someone who wants to go heliskiing? Have a kitesurfer or surfer in your family? Want to treat yourself to a luxury fishing trip? We've got the perfect gift for you.
$100, $250 and $500 USD gift cards available in our store. Purchase today. We will send you a code for the value amount in your email so you can share it with anyone on your list.