ECHO BASE, the newest adventure experience from White Desert, is now a reality after three years of planning, 80 tonnes of air cargo, and over 1,000 square meters of molded composite fiberglass. It is a clear change to the way tourism in Antarctica looks – it was incredibly ambitious.
ECHO is unique in every way, inspired by astronauts and used by explorers. Almost as if you were living in a lunar outpost and NASA mission control will radio you at any minute now.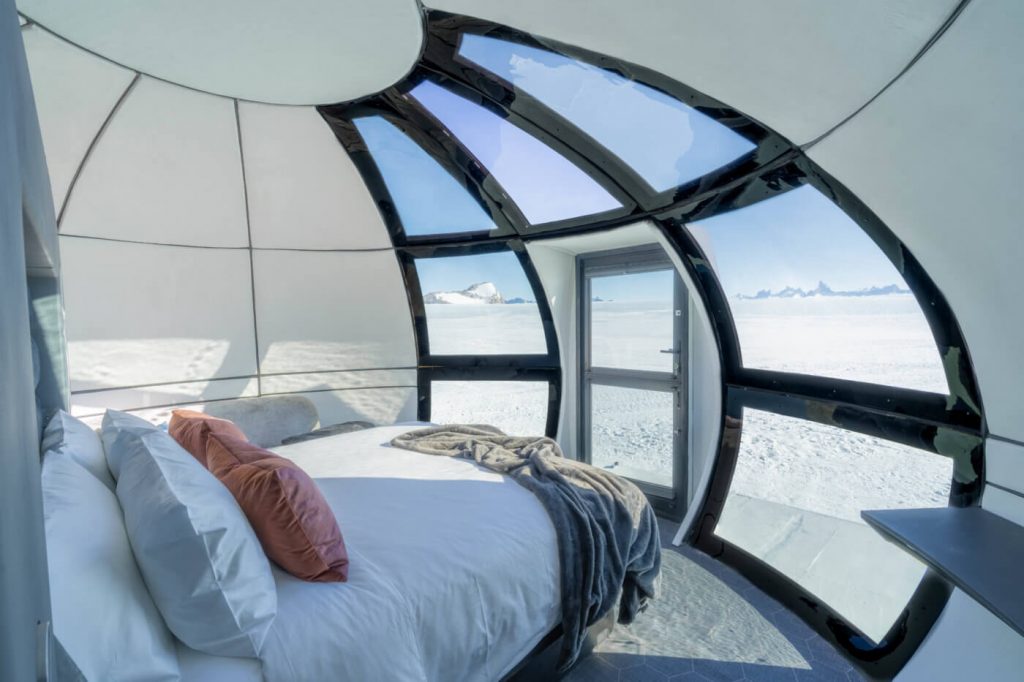 The Camp and Domed Sleeping Pods
Echo is inspired by Space exploration's seminal era, as it sits in quiet solitude surrounded by pitted rock formatiEcho gives you as close as you can get to feeling off the planet without leaving Earth.
The 'Sky Pods' look like they've been beamed down from Mars due to their space-age design. The six bedrooms are constructed from composite fiberglass with floor-to-ceiling windows, letting guests soak in the moonlike landscape beyond.
Each pod will feature original photos taken from the International Space Station (ISS). These photos are by former Commander, White Desert guest, and retired astronaut, Colonel Terry Virts.
The Echo can accommodate up to 12 people and provides guests with a one-of-a-kind experience on the 7th continent. As with all White Desert camps, Echo is designed to be dismantled, leaving no trace on the Antarctic landscape.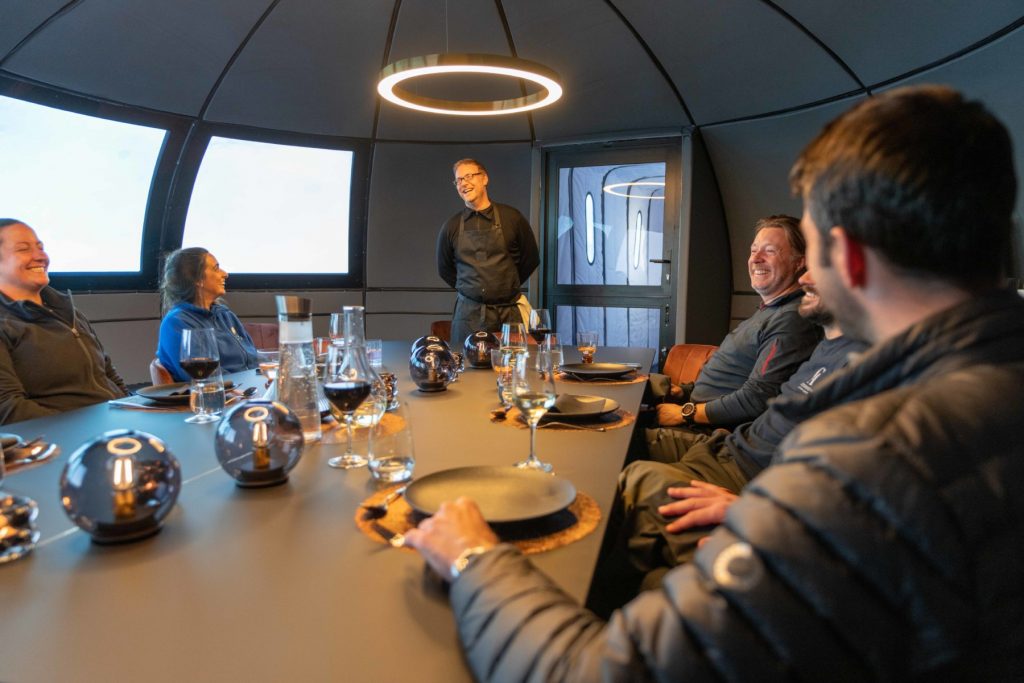 Fine Dining in Antartica
The kitchen staff at Echo Base use their extensive knowledge to provide incredible dishes that are both comforting and delicious. Every meal begins with a unique starter made with locally sourced ingredients that's sure to tantalize your taste buds. You then move on to the main course which could include anything from king crab legs, juicy steak, or fresh pasta – all cooked to perfection. For dessert, you can choose between decadent cakes, rich ice cream sundaes, or mouthwatering local fruits. And no matter what your order may be, each dish is prepared with love and care.
But it's not just about the food; dining at Echo Base also involves getting up close and personal with nature. All around the dining hall, there are wide windows that let in light and provide a spectacular view of the Antarctic landscape. There's something truly special about being able to watch as snow gently falls outside while enjoying a gourmet dinner inside.
Echo Base isn't just for adults either; kids will love every moment spent here too. The staff makes sure that young explorers are kept busy with activities such as building igloos, baking s'mores in the fire pit, or having snowball fights! They'll even have time to tuck into some tasty treats like warm pizzas and hot cocoa before bedtime.
Dining at Echo Base Antarctica by White Desert is an unforgettable experience like no other. Enjoy amazing cuisine while admiring one of nature's most stunning landscapes.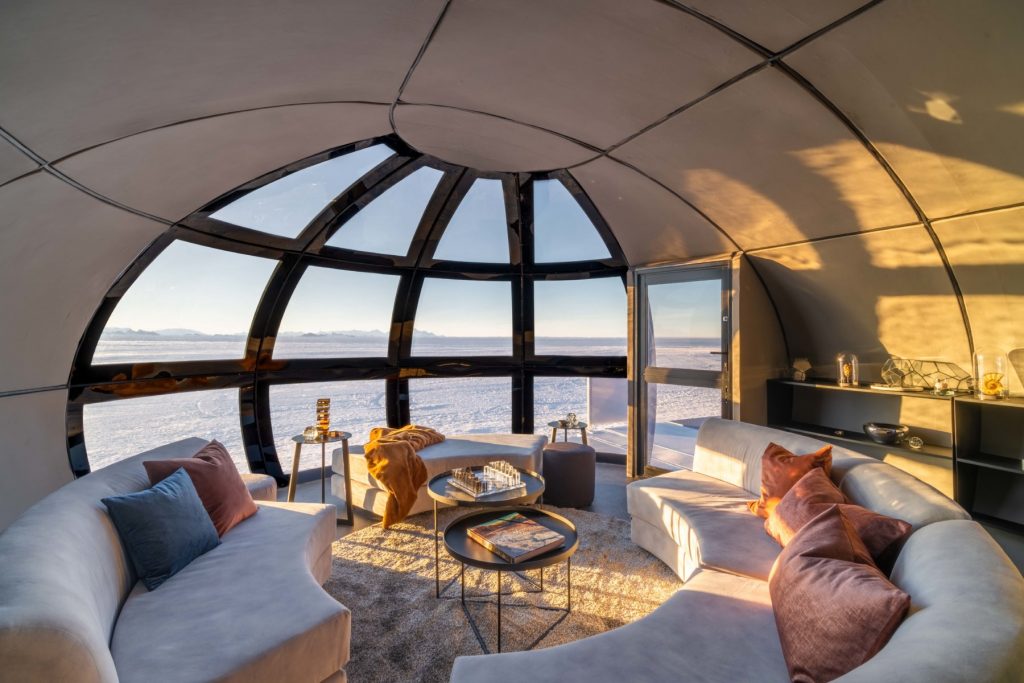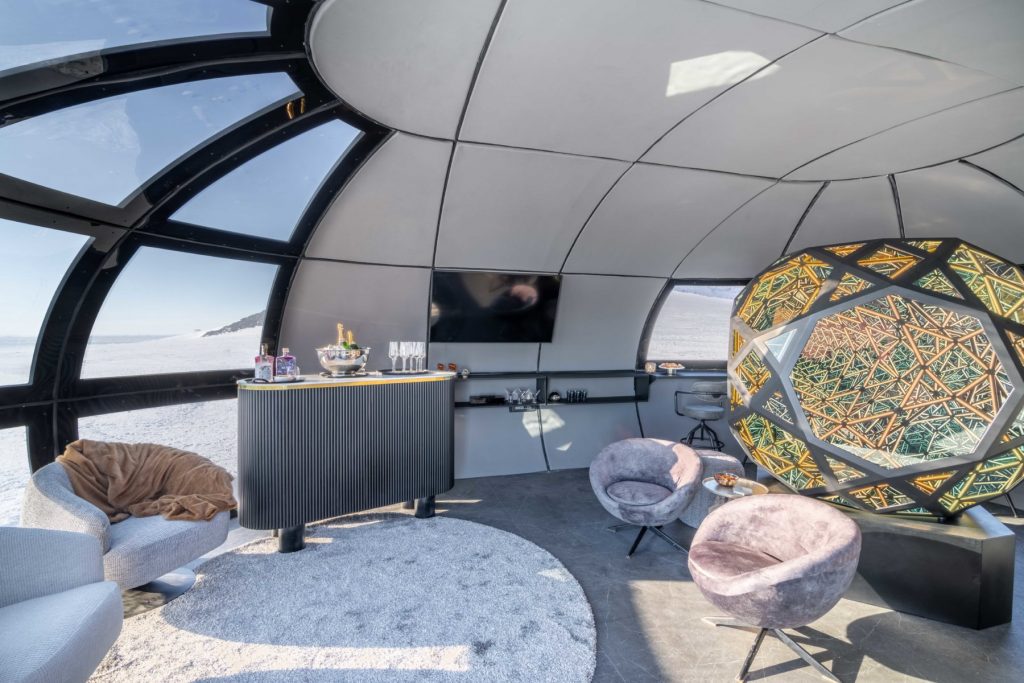 The Lounge and Library in the "Cosmos"
Echo Base Antarctica by White Desert is an adventure that you'll never forget. The lounge area will leave you feeling like royalty. The Art Deco Lounge Area at Echo Base is nothing short of spectacular. Its grandeur, elegant style, and attention to detail are sure to make any guest feel special. Sumptuous leather couches invite visitors to relax in comfort while taking in the breathtaking views over the ice-capped mountains. The intricate detailing on the walls, ceiling, and furniture combine perfectly with ambient lighting and a large Anthony James sculpture as a centerpiece.
Don't forget to check out the luxurious library pod as well. The circular couch overlooking the vast landscape is the perfect place to reflect and unwind. These communal spaces make the camp feel more like a community.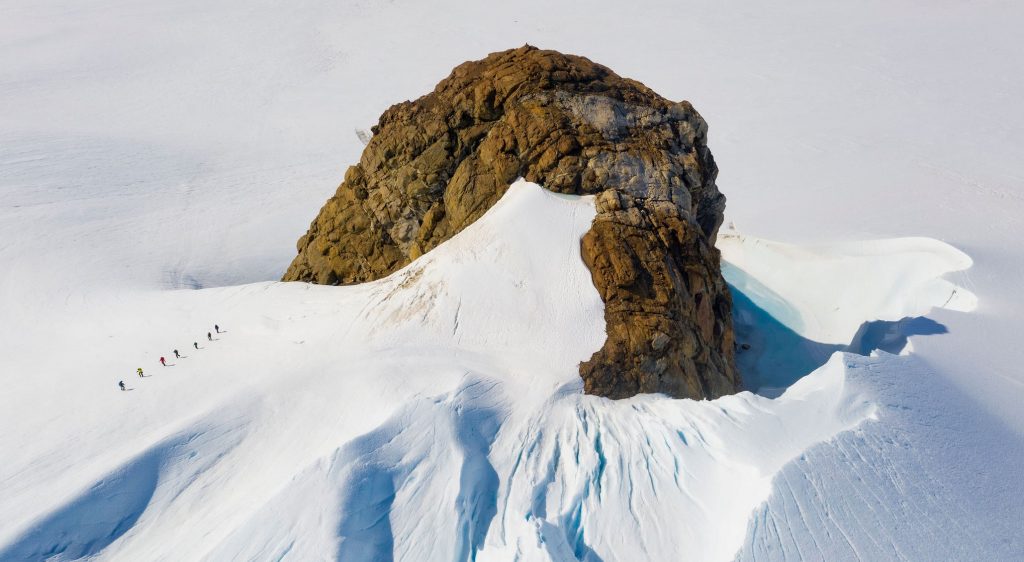 Activities at ECHO Base Camp
While at the base camp, there are plenty of activities to enjoy, though you might be perfectly content experiencing the camp, the fine dining, and the spectacular views. If you're looking for a little adventure close by, you can enjoy fat bike riding, cross-country skiing, a skidoo tour or an arctic truck safari in the nearby area.
For more adventurous guests, there are options for the Explorer's Traverse, where you can walk in the footsteps of famous arctic explorers and brave the same conditions they experienced. There are also options to camp out and practice life-saving explorer techniques (all simulated of course). There are also Ice Climbing and Mountaineering expeditions with UIAMG guides.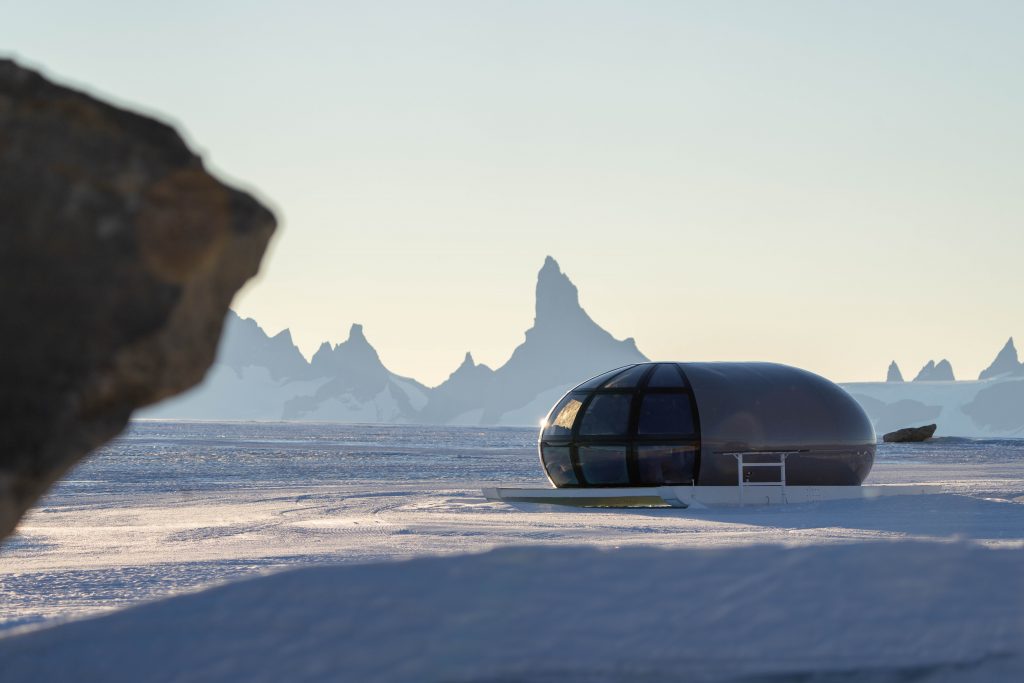 Packages from White Desert
From the Echo camp, there are two unique packages that you can book. The first is the South Pole and Emperor's adventure. This 7-day journey brings you the very best of Antarctica – a visit to an Emperor Penguin colony of over 28,000 birds and a flight to the lowest point on Earth – the Geographic South Pole. Flying in by private jet or Airbus and with only 12 guests on each departure, we offer a bespoke service that is as luxurious as it is remarkable.
There is also the Early Emperors package, taking place in the early season in November, offering guests a slightly discounted price on the same spectacular experience.
Contact our team to learn more about both of these spectacular packages from the Echo camp, or explore trips and dates below.