Here at Heli, we offer a nearly endless inventory of trips around the world—from heliskiing in Alaska, to diving in Indonesia, to surfing in Costa Rica. Today, we're going to focus on one of these many trips: mountain biking in Peru. And more specifically, we'll hone in on one of the most stunning accommodations this planet has to offer. Buckle up, folks, because this trip has no shortage of adventure, even when you're asleep. (We'll explain.)
The 6-day trip, hosted by Ride The Earth, is overflowing with life-changing experiences. Of course, the center of attention is the riding itself. Pedaling around the Andes is unlike anything else on the planet, with a wide range of scenery that blows your mind over and over. Whether you're down low in the ancient villages or up high in the tundras, the heart-pumping singletrack is truly something else—not to mention all the natural terrain and rock features sprinkled throughout.
Outside of the riding, you'll visit Inca ruin sites, like the one and only Machu Picchu, and shop through colorful Peruvian markets in between. And when the night falls, top-notch dinners and accommodations keep you nourished and rested. But one night sticks out from the rest. Or to be more specific, it sticks off the side of a 1,200-foot cliff.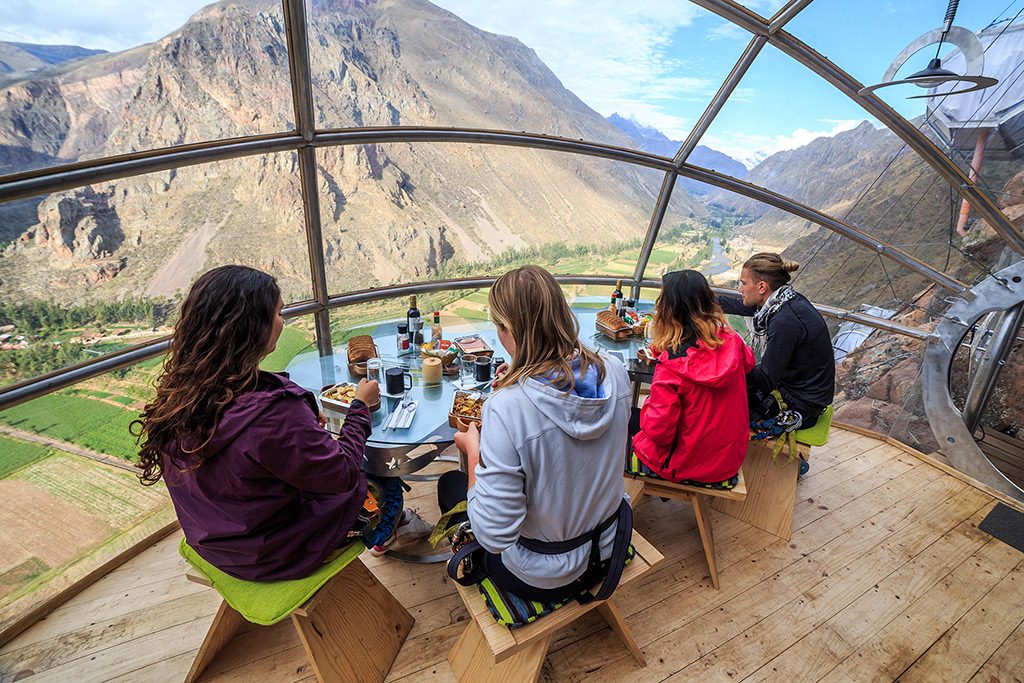 Enter Skylodge Adventure Suites, one of the most unique lodging and dining experiences on the planet. These luxury pods hang off the side of a cliff in the Sacred Valley, defying gravity, and everything you knew about travel. At first sight, they appear to be some sort of art installation. or part of a mythical civilization. But this is real life, folks.
Here's the catch: You've got to hike up to the top all on your own. It takes about an hour and a half, and you're strapped into rock-climbing gear to ensure it's safe each step of the way. But needless to say: this isn't for the faint of heart. Oh yeah, there's a zip-line up there, too. Yeah, a zip line.
At the top of the hike, it's all worth it. You'll enjoy a gourmet dinner alongside well-deserved drinks. When it's time for bed, guests can enjoy their own pods just like master suites. And if you're wondering, yes, there are bathrooms all the way up there.
So, if you like to ride bikes, you're not afraid of heights, and you're ready to live life to the fullest, look no further. This trip with Ride The Earth is all for the taking.