Long Island's Hidden Gem
Mention "The Hamptons" around the dinner table and you'll get a mixed bag of responses. The comments typically center around celebrities, hedge fund managers or that SHOWTIME series, The Affair. This type of talk tends to distract people from what's really special about the place. It's something only the kiteboarders and surfers know about, even though it's right there on the doorstep. The truth is, the Hamptons are home to a collection of some of the best kitesurfing beaches and surf breaks in America.
Truth in Stereotypes
The surface level stereotypes do have some truth to them. Justin Bieber and Hailey Baldwin were spotted eating frozen yogurt in Sag Harbor. Hedge fund billionaire Steve Cohen tore down a $62 million mansion to build a bigger one in its place. And the Affair boasts an 87% rating on the Tomatometer. If you look beyond the obvious attention grabbers however, what you'll find is 40 miles of pristine, uninterrupted white sand beach. The best riding spots here are less than 90 miles from New York City, and here's the secret, 5 days a week they're empty.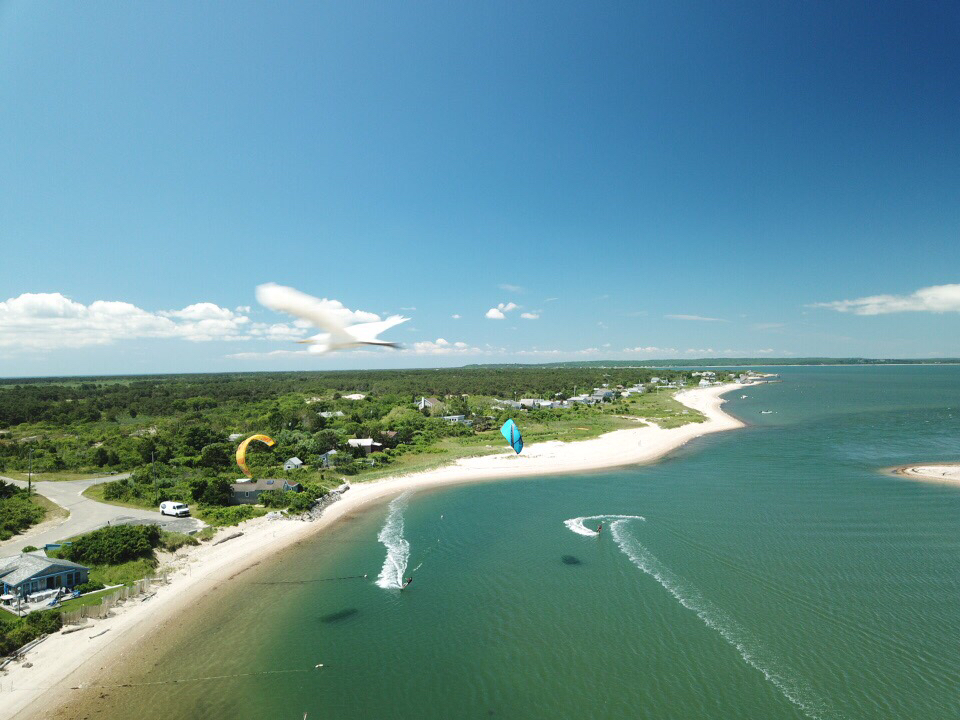 Surfing in Montauk
The surf scene in Montauk has a long history and is well established. Surf culture has gone mainstream. Perhaps nowhere is this more evident than weekends in Montauk. One of the staff members at the town surf shop, Air & Speed, was only half joking when he told me: "most people who come in here don't really surf, they just want the SURF MTK t-shirt to wear around New York and a post a snapchat of them holding a board." The majority of weekend warriors trade their boards for boardrooms every Monday. The ocean becomes nearly empty until the following Friday.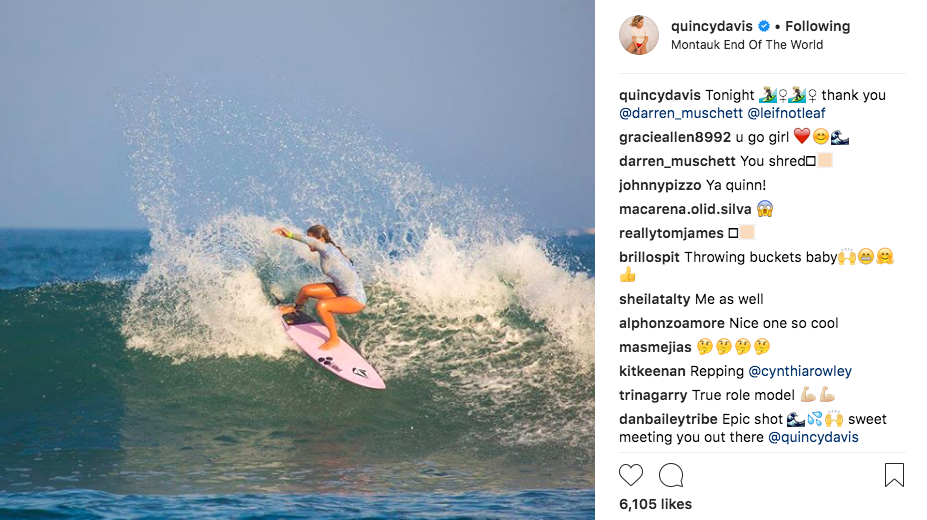 In addition to great surf breaks, Montauk has a storied surf lineage including several pros. Most notably, local ripper and Instagram legend @quincydavis seen above.
The Kite Scene
Kitesurfing in the Hamptons has grown in recent years too, but not as exponentially as surfing. It's a busy day if it takes 2 hands to count the number of kites in the air at any one time. The wind can be inconsistent but it typically averages 3-5 days of rideable conditions each week. The shifting wind directions allow for the ability to ride at different beaches in the area, each of which offer something unique.

Kitesurfing in The Hamptons presents both oceanside and bay-side riding opportunities. The oceanside downwind ride from Amagansett to Montauk is hard to beat. This 10+ mile trip is an afternoon undertaking but always worth the effort. A collection of sandbars shape the shore-break and provide an endless playground of small to medium sized waves. Waves above head high aren't typical in the summer months but with a west or southwest wind and a strapless surfboard you're in for a real treat.
Flat Water & Lessons
The most popular flat water riding takes place in Napeague State Park. The lagoon north of highway 27 is visible from the road as you pass the famous Clam Bar just before Montauk. Here you'll find shallow water which can be ridden in nearly all wind directions. Skywalk Kiteboarding, the top kite school in the area, teaches the majority of their lessons here. Beginners will find that Bosco and his team will have them riding in record time. The best kiteboarding conditions in Napeague are found during northwest winds. Riders can tuck in against the dunes that separate the lagoon from the bay and rip wake style tricks for hours. It can get gusty on southwest days, be sure to size your kite appropriately. Napeague is also a popular clamming location for fisherman so watch out for shells if you're riding with bare feet.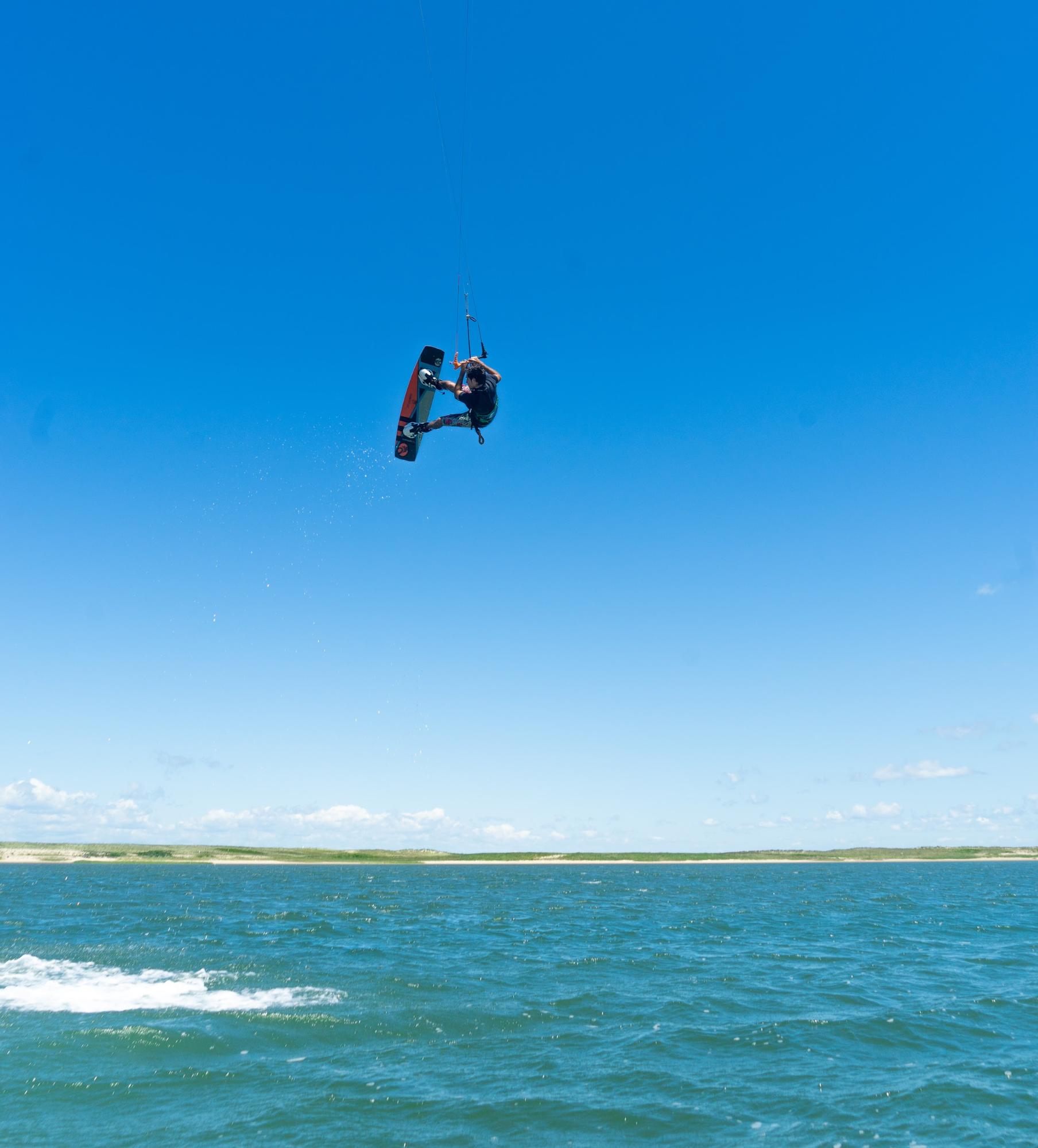 Visit and Explore
New York residents and visitors should make the trip out and discover The Hamptons. Visitors who spend a few weekends here each summer will uncover a number of other incredible riding opportunities. You will need to come join us to find out, because for now, we're happy to let Justin Bieber steal the headlines and keep our favorite beaches out of the spotlight.