Skiers and riders are loathing lift lines more than ever. The growth of wintersports paired with mega passes and expensive express lanes have made resort skiing a difficult value to grasp. In Utah, this is all particularly true. But behind the resorts, there's endless opportunity to grasp, for a better value.
From the Uintas to the Wasatch, incredible lines can be found minutes away from the Salt Lake City airport—accessed by cat and heli. Instead of waiting in long lines on a Utah powder-day frenzy, book a tour with some of the best heli and cat skiing operations in the country so you can ride stress-free. The volume of operators in Utah is fairly low. So to help you book the best trip of your life, we've narrowed it down to the two best in the business. Happy shredding, friends.
Park City Powdercats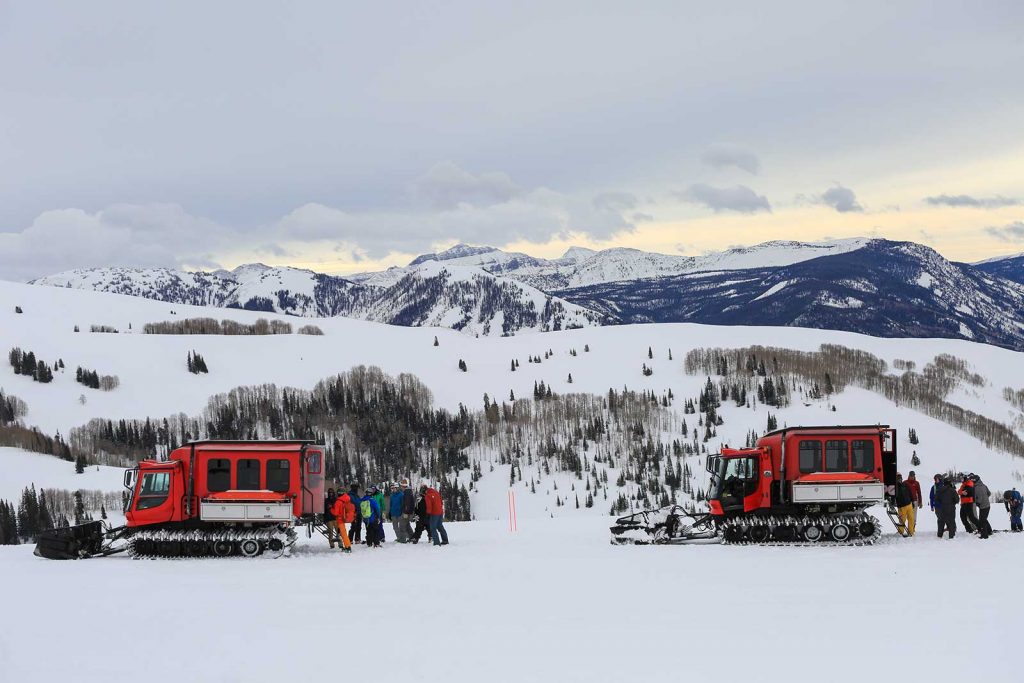 Park City's premier catskiing operation, Park City Powdercats sits on a private ranch with 43,000 acres of skiable terrain nestled in Northeastern Utah, near the Wyoming and Colorado borders. Explore the famous Uinta mountains, where super light, dry, and fluffy snow is abundant just 35 minutes from Old Town Park City. Park City Powdercats are known for four iconic bowls: Giant Steps, Four Eagle, No Name Nowl, and M&M that leave guests coming for more year after year.
With 27 years of experience, PC Powdercats guides lead you to other worldly lines where you'll be reminded how much better catskiing is than resort skiing. Between runs, sit in comfort in your heated snowcat while you hydrate and recharge in tow to the top of your next run. Did we mention snacks and lunch are included? PC Powdercats also offers other unique tours outside of catskiing, including an intro to backcountry touring clinic, as well as a guided backcountry tour with experienced guides.
Rates for Park City Powdercats start at $750 USD. If you're looking for a skiing and boarding experience like no other, Park City Powdercats has everything you need just a stone's throw away from the SLC airport.
Powderbird Helicopter Skiing
Founded in 1973, Powderbird Helicopter Skiing was one of the first helicopter skiing operations businesses in the world. Powderbird guests arrive at luxurious bases located conveniently in two locations, Snowbird and Park City, Utah. From here, guests are flown from the heliport at the base of Snowbird, and are guided through thousands of acres of untouched terrain.
Powderbird proudly operates in the largest commercially permitted area in Utah with more skiable terrain than all of Utah's ski resorts, combined. If this doesn't already have you hooked, be reminded that Utah collects up to 500+ inches of snow annually, where you'll be instantly stoked on the Greatest Snow on Earth.
After an epic day riding in the Wasatch mountain range, enjoy sunset drinks and maybe even a spa treatment at the Cliff Lodge Spa. Don't let lift lines get you down, explore the best Utah has to offer with Powderbird Helicopter Skiing.