For many people, heliskiing in New Zealand is a dream. The country's climate and terrain are perfect for skiers and snowboarders who aren't afraid to explore new places. This guide will provide you with the information you need to plan your own trip to New Zealand so that you can experience the thrill of heliskiing like never before!
New Zealand has a more mild winter.
New Zealand has a temperate climate with warm summers and mild winters. This means that the weather is not extreme, but it's still warm enough for you to really enjoy skiing or snowboarding. The scenery is spectacular, with most of the season having green grass in the valleys and aggressive snow-covered peaks as far as the eye can see. You'll typically get bluebird days with storms refilling the runs every few days.
How much vertical can you ski in New Zealand?
The highest point you can ski in New Zealand is 4,000 meters – that's around 13,123 feet, or 3 miles high. This means you'll certainly get your vertical goals met while heliskiing in New Zealand. Don't expect small mountains, just because this is a lesser known region for heliskiing trips. The amount of terrain available is almost overwhelming, primarily wild and undeveloped backcountry land as far as you can see. It will feel more like Alaska. It truly is a bit of a hidden gem.
The average height of the mountains in New Zealand varies depending on which mountain range you're in: The Southern Lakes region ranges from 1,000 – 2,000m. Mt. Cook clocks in at around 3,754 meters (12,316 feet) in elevation.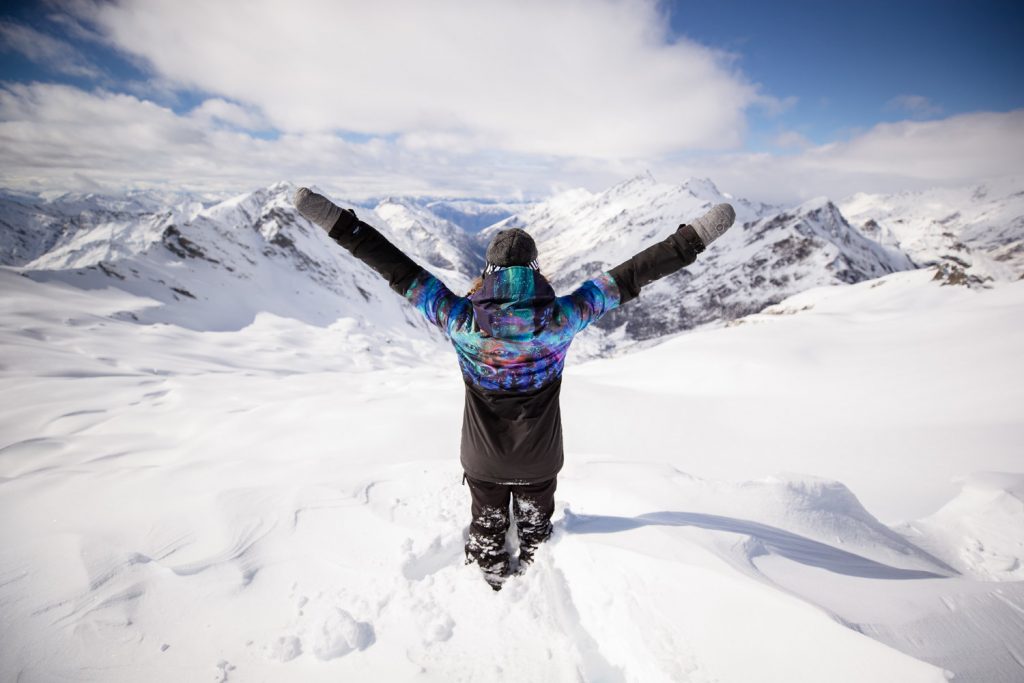 The Southern Island has the Southern Alps, which run nearly the full length of the island. The region in the southern part of the range is the Southern Lakes/Harris Mountains region with access from Wanaka and Queenstown. This is where Southern Lakes Heliskiing and Harris Mountains Heliskiing operate, with two locations to access different regions of the Southern Alps.
Further north, you'll find Mt. Cook, closer to the capital of Christchurch. This area is where Mount Cook Heliskiing is located. There are higher elevations in the North, but the entire Southern Alps hold snow year-round with glacial snowpack, so you should really get good conditions regardless of which operator you select. It's probably best to focus on amenities, budget, group size, and lodging when comparing options.
When is the best time to go heliskiing in New Zealand?
Heliskiing in New Zealand is best between May and October, with the peak season being between June and September when the snow is the deepest. The weather can be a bit unpredictable at any time of year, but winter storms bring heavy snowfall that is typically lasting a few days, and then the skies open up to beautiful bluebird days. Don't believe me? Just look at the images and videos every year from heliski operators in the area.
Heliskiing is growing in popularity, and it's easy to see why. The wide-open terrain allows for many different drop points above the skiing. Milder winters allow for a higher likelihood of fly days. With multiple operators in the region, you'll likely be able to select your desired dates more easily.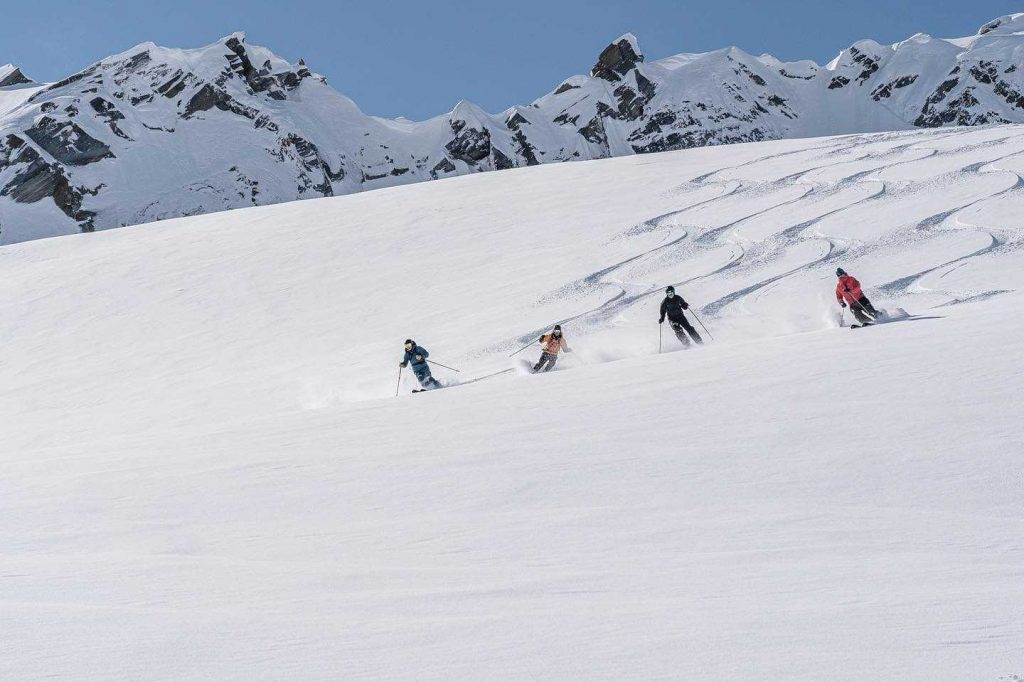 There are a few different heliski operators in New Zealand, all with different packages and offerings.
There are several different heliski operators in New Zealand. Some are better known than others, but all of them have a good reputation and can be trusted to look after you while you're on the mountain with experienced and certified guiding staff, common best practices, and streamlined safety systems. Truly, the heliskiing industry in New Zealand is a well-oiled machine with tons of experienced professionals.
If you want to ski at one specific location, it's best to choose an operator who works out of that area. For example: if you want to ski Mount Cook National Park, then use Mount Cook Heliskiing; if your heart is set on skiing near and visiting Queenstown or Wanaka, then get in touch with Harris Mountain Heli-Ski or Southern Lakes Heli Skiing.
With several heli-ski operators in New Zealand to choose from, you'll want to make sure you do your research before booking your trip! If you are looking for luxury accommodations and multiple days of skiing, Minaret Station might be the best option for your heliskiing vacation. Looking for a single-day heli-skiing experience while you are staying in Queenstown or Wanaka, then Southern Lakes Heli Skiing might be the right choice. You'll want to decide if you are looking for a single-day or single-run experience or a multi-day package. The price will depend on lodging, the duration, and if the adventure is private or if you are joining a public group.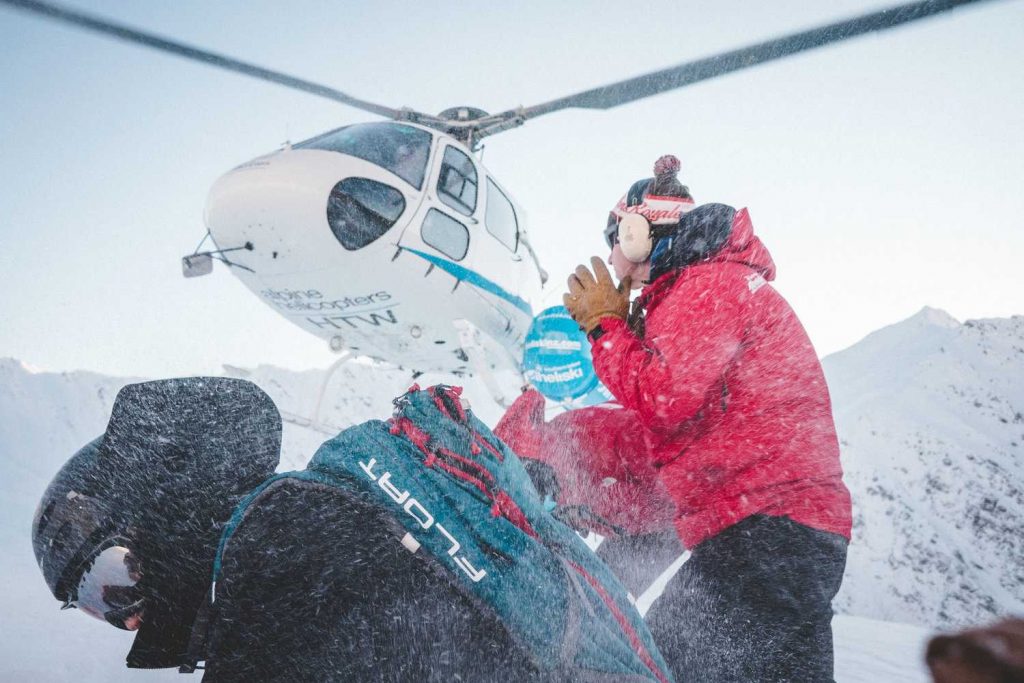 Getting to New Zealand for your Heliskiing Trip
Almost all the heliskiing operations that we partner with offer some transfer or pickup in Queenstown, making logistics pretty straightforward. To get to Queenstown, you'll probably need to arrive in Christchurch first for international travelers. Luckily, it's a quick transfer. Getting to Wanaka from Queenstown is relatively easy if that's where you choose to stay. Otherwise, Queenstown is a great base camp for your adventure.
Once you're in Queenstown and have checked into your hotel/apartment/AirBnB, head over to the airport and rent a car–you'll need this for getting around during your stay if you aren't staying at a lodge included with your heliskiing package! The drive from Queenstown to Wanaka is about two hours on Highway 6, or you can coordinate with an operator who offers a shuttle or transfer. If you are staying at a lodge-based operator like Minaret Station, you can coordinate transportation with their team, including shuttle transfers, and avoid the rental car altogether.
Having a rental car can be nice though if you plan to extend your trip and do things before or after skiing. There's so much to explore while you're not skiing that it's worth delaying your departure by several days to go sightseeing.
Drive the famous Milford Road, which winds through Fiordland National Park and is known as one of the most scenic drives in the world.
Visit Hobbiton from The Lord of the Rings movie trilogy. This is where Peter Jackson filmed his movies and it looks just like how it does on-screen!
The Experience
The experience of heliskiing in New Zealand is unlike anything you've ever done before. It's a feeling that can be described as nothing less than magical.
You'll fly over beautiful mountain ranges, landing on top of them and being able to look around at the world from a new perspective. You'll feel like you're part of a group with other people who are excited about this amazing activity, too!
You'll need to be prepared for a lot of different types of terrain. NZ's mountains are unlike any other in the world, and there are many different mountain ranges to explore. Each range has its own unique terrain, but most of them aren't very tall–you won't be skiing down Mount Everest anytime soon! However, that doesn't mean you can't have an incredible experience heliskiing here: there are lots of glaciers throughout New Zealand that make for awesome powder skiing!