Heli recently launched it's new booking and reservation management software product called Heli OS. Our goal was to take all of the booking technology we use here at Heli such as; dynamic customer checkout, information collection, and inventory management, and make it available to all our partners. This way, adventure operators could all power their business with our technology. 
When you sign up for Heli OS you gain access to a whole suite of tools, all hosted by Heli, but fully branded to match your website's look and feel. You can log into your account from anywhere, and use it to update what's available on your website as well as what's available in the Heli marketplace. Click on the button below to learn more about Heli OS and specific features. 
With Heli OS, we have created a tool that allows our partners to do the following:
Take payments online for their trips

Keep inventory up to date and allow your guests to see it too

Have dashboard where all bookings and guest information lives to stay organized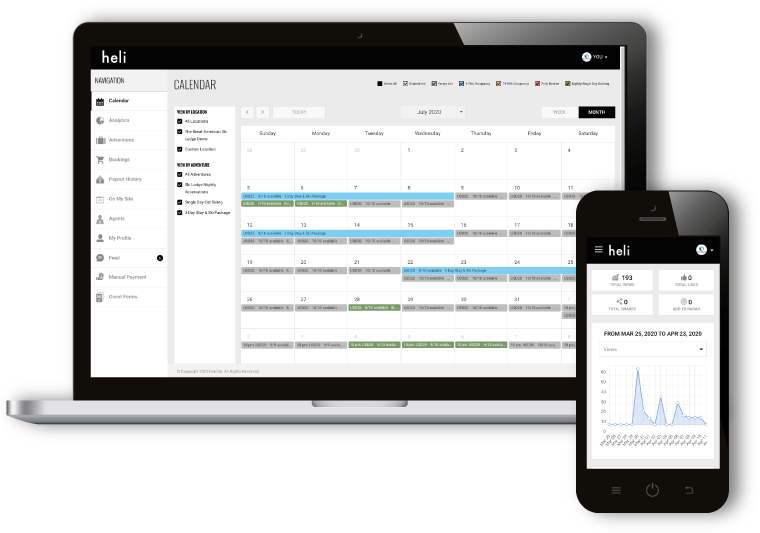 Frequently Asked Questions about our booking software for outdoor adventure operators. 
How long does it take to get up and running?
Setup typically takes a week. We like to get your profile and adventures created by our team during your initial onboarding. Then, we hand you the keys to your account. These initial onboarding sessions are designed to get you using our tools in no time.
How do payouts and payments work?
We use a few different payment providers in order to offer guests multiple payment options when they checkout. Guests can pay via credit card, which we process using Stripe. Stripe provides a layer of security and fraud protection. We require our partners to create a Stripe Connect account, which allows us to automatically and instantly transfer funds directly to you, with no waiting period. 
Stripe gives us access to additional payment options beyond credit cards, like Instant ACH for US customers who want to pay US based operators. We continue to add on additional payment methods for other countries and partners. 
We also partner with Flywire to allow our partners to receive international wire transfers and domestic wire transfers for those located outside of the United States. You can connect your existing Flywire account to your Heli OS and start accepting Flywire transfers immediately.
What kind of fees do I pay for payment processing?
One of the benefits of using Heli OS is that there are no fees taken out of your rate. You set the price for your adventure, and that is exactly what you receive, regardless of how the guest chooses to pay. 
We have a 3.5% blended rate for credit card payments that is applied to the guests order at checkout. We then pay this amount to the payment processor and transfer the difference to you (less our commission if it was sold by our team on the marketplace). 
For United States customers, they also have access to Instant ACH, which has a 1% fee associated. Again, this is paid by the customer at checkout. 
For international payments, for non US based companies, Flywire can be integrated with your Heli account. No processing fees are charged for the use of Flywire to either you or the customer when the wire transfer changes currencies. Otherwise, a fee is typically applied for domestic wires, which is part of the terms agreed upon directly with Flywire. Flywire is not currently available for transactions between US customers and US operators. 
Is it available in all countries?
Yes, Heli is currently supported in all countries. However, we currently only offer our dashboard and site in English, but pages can be translated by modern web browsers. Some automated payout methods may not be supported in your country, so please check with a member of our team to see if your country and currency is supported.
Where is all my customer data stored? Is it mine?
All the customer data lives in your account and can be exported at any time. Furthermore, Heli agrees to never contact your customers directly for marketing or sales purposes. Your customer data is yours and we make commitments in our contract agreements to keep it that way.
Do I have to list my adventures in the Heli Marketplace?
You do not have to list your adventures in the Heli Marketplace to take advantage of Heli OS. You have the option to mark any adventure as Private. This means it will only be accessible by direct link. This way, you can easily give your customers a way to book your trips without making the adventures widely available to the public.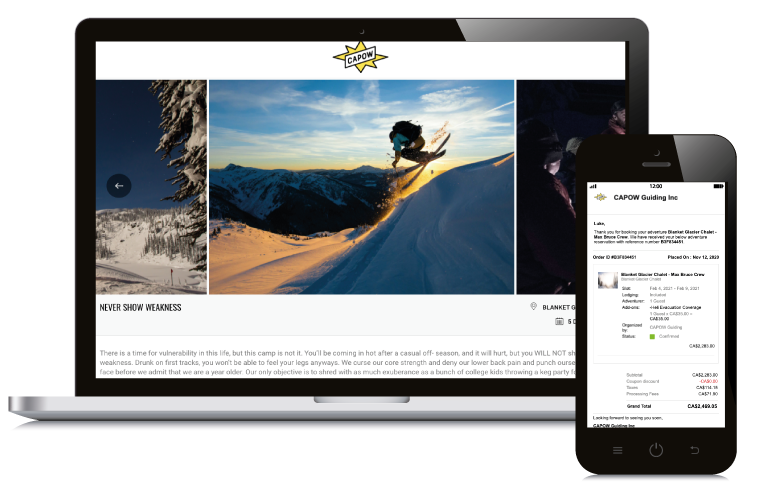 Do I have to allow online booking of my adventures?
The choice is yours. You can use Heli OS to create 'book now' buttons on your website and allow your customers to book themselves into your trips. However, if you prefer to vet customers before allowing them to book, that works too. Simply send along a payment link or link to a private adventure once you are ready to collect payment, allowing you to control the booking process.
How much does Heli OS cost?
Heli OS has a dynamic pricing model that is customized to each individual users. The vast majority of users pay a fixed monthly fee for use of the booking software.
Contact our team today to schedule a demo and get a full overview of how our technology can help you power your adventure business.