"It's a challenge we all face. How do we get more traffic to our website? Better yet, how do we get more customers?"
We put together this quick article to address some strategies we use at Heli and some strategies we have seen work for our partners. We are happy to share this information with our operator community, because the more people taking up adventure travel, the better this world will be. 
There are two main strategies we focused on for this article; focusing on turning anonymous traffic to actionable leads and going out (with free/cheap strategies) to gain more visibility for your business and traffic. 
The first approach is to take advantage of what you already have. Look at your conversion rates at each step of the customer journey, all the way from anonymous web browser down to first purchase. 
Our guess is you aren't getting enough people to take a first, easy step. Instead, when they reach your site, they have two options. Contact you to reserve a spot or leave. That's it. There are some great tactics that are easy to set up and test that help more of that traffic turn into something more substantial. 
Turn anonymous traffic on your own website into actionable leads
You already have potential new customers browsing your website right now. The only thing is, a lot of them will window shop without taking action. They may not call you or complete a contact us form because they aren't ready. It is also unlikely that they will go through a full checkout process online unless they are very familiar with your operation or are repeat bookers. So how do you get them to take that first step, to provide you just enough information so that you can actively reach out to them and keep the flame alive, converting them from browser to customer?
Here are some of our favorite tactics.
Add Chatbot to Your Website
Think of your website like a physical store. Would you let someone walk into your retail store to just browse, knowing that your product may be complicated or require some explanation to understand, and not have a junior salesperson step up and at least say hello? 
The "can I help answer any questions or help you find something specific" still goes a long way in converting a window shopper into a customer.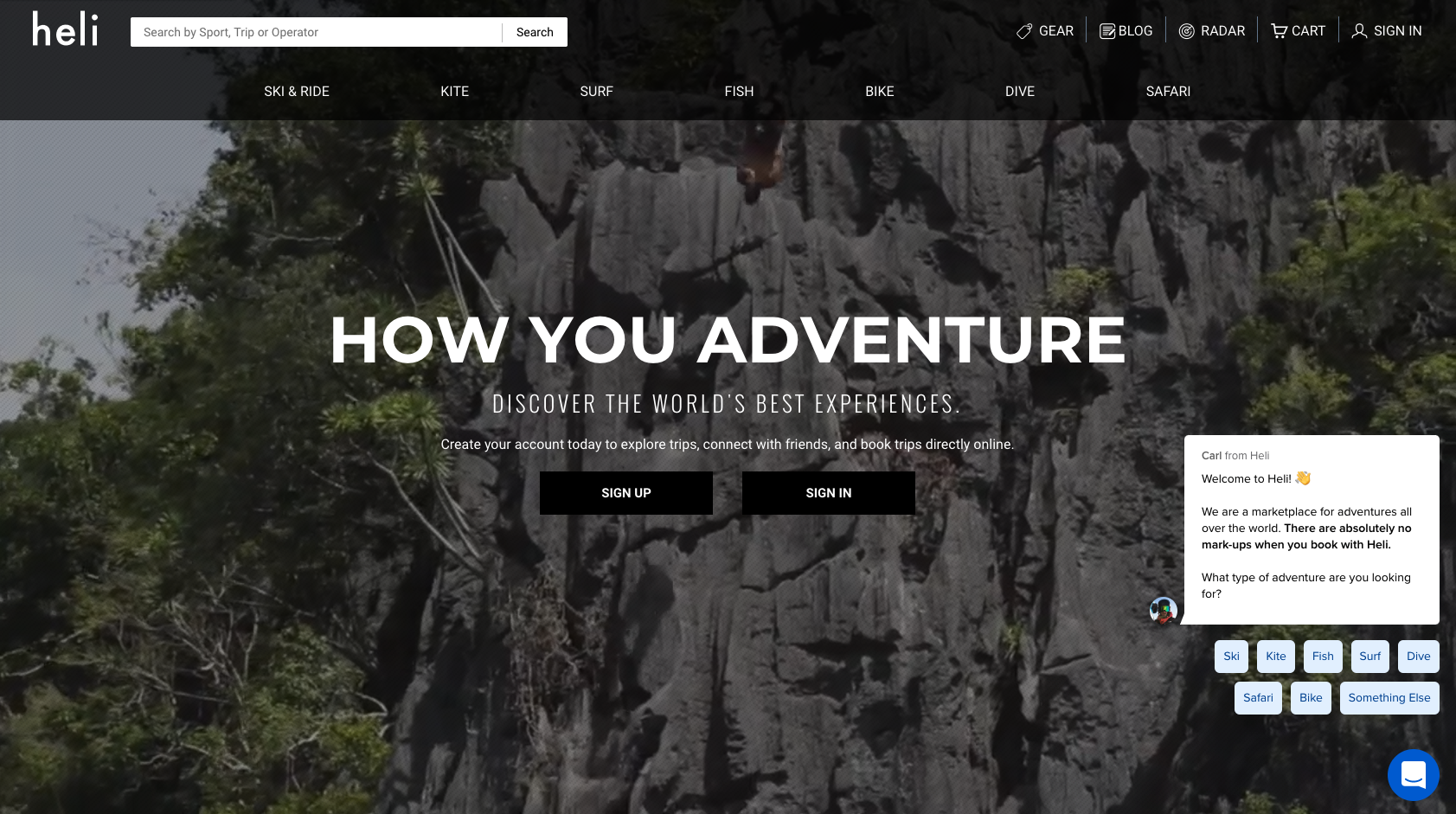 Chatbots can help with that process, and doesn't require you to hire a phone call center overseas to man it. By creating a bot that has a few easy qualifying questions, you can often get someone to leave their information to receive a follow up. It feels natural for the customer and feels like a lower commitment than calling you or filling out a complete form. 
**Bonus points if you can jump in and take over for the bot to start a live conversation when you are in the office. Most chat applications have a mobile app, so you can take over conversations on the go. 
Create a downloadable guide in exchange for a guest email
What are the FAQs, the things that your customers always seem to ask about your packages or operation. Here are some ideas for simple downloadable guides you can create. Guests can then enter their email address to receive their copy of the guide. There are several software options available that allow you to automate an email after a guest signs up for an offer. 
10 things to consider: Insider checklist to help you compare trips (with tips)

Explore our terrain: Downloadable maps with runs

Last-minute list or: Sign up for our exclusive stand by list, special offers list, singles list (email or phone-based)
The key here, this has to be something of immense value to your potential customer and something they can't get elsewhere from you (or better yet, anywhere). Can you make one for each page on your site? Downloadable maps on your terrain page. Download the "things to consider" guide on your FAQ page. Join the Last Minute List popup on your contact us page. 
Furthermore, these downloadables can become a great part of your ad strategy. You can have users sign up for them directly in Facebook ads. 
Here are software solutions that can help you with this: 
Allow people to schedule a meeting with you on their time
Many people just want to talk to someone on your team without committing to anything. They want to be heard, have questions answered, or discuss the finer details of what to expect. Give them an opportunity to do so, on their time.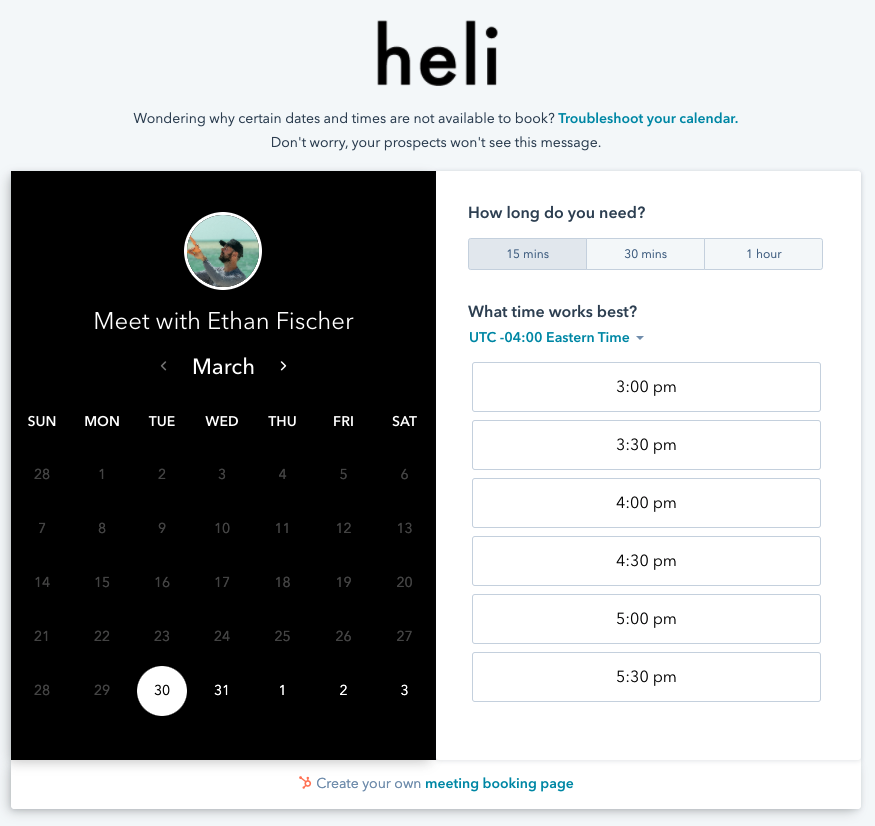 Using a service like Calendly can allow people on your website to schedule a time with someone on your team. They can choose phone call or video chat. In the process, you will receive a phone number or email address and more importantly, an opportunity to guide someone in the decision-making process. 
Emails and phone numbers are great as opportunities for your sales team to do outreach to qualified leads. However, the scheduled meeting delivers the opportunity straight to you without needing to follow up or chase someone. 
This can also be a great offer to pull people from your list of emails into a sales process. 
Go Out and Attract New People
Alright, time to dive into part 2. You've already done the above and you are getting the maximum value from every person that clicks through to your website. Your website is optimized, has clear buttons that drive toward the action you want the user to take (a CTA) and you have high conversion rates. Congrats! Though there is more work to be done, sometimes you need to feed your website more traffic but getting people interested in you. The good news is that having the first step done will make this next step easier. 
By having a website that converts traffic to leads and customers, you can spend less of your effort in the outside world being pushy (like on Social Media or Forums) and simply open the door to let people come check out your site. 
Social Accounts/Social Paid Advertising
Your business is exciting at it's very core. You do things every day that other people save money for and daydream about. The photos and videos you take with a cell phone will be good enough to attract new customers to your business (of course, professional photography and video is always going to win, but don't let that stop you from creating your own content). 
Social media still offers one of the best opportunities to attract new web visitors for operators in the travel industry. Travel and these experiences are visual in nature, and the content you have will likely be enough to attract people through social media to your site.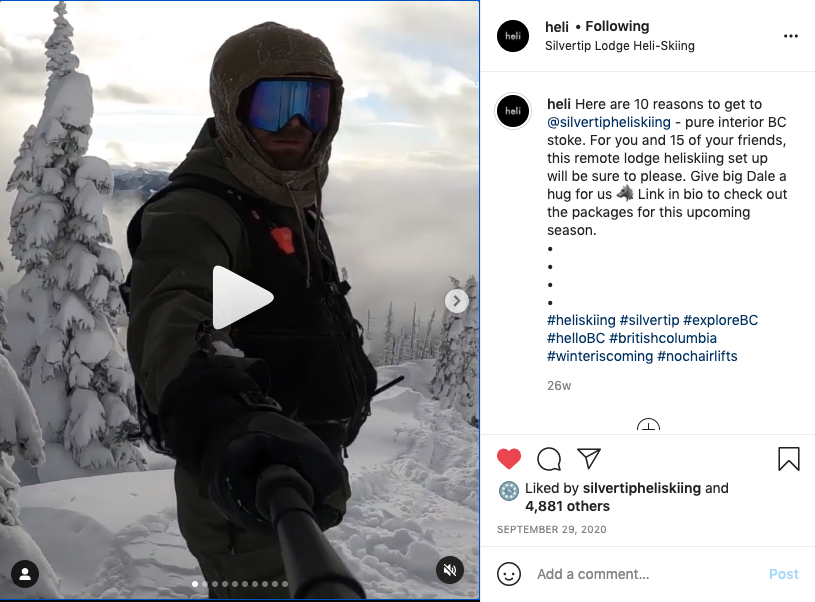 Of course, most platforms are now pay-to-play, and it is becoming increasingly difficult to reach your following or organically see growth in this space. Paid advertising on these platforms can bridge that gap, helping you reach a new audience when targeting is set up correctly. There are several strategies around social media that we have seen be highly effective. Here are just a few. 
Regular video/photo content posted to Instagram, including reposting user-generated content, with proper location tagging and hashtag use

Athlete (and Sponsor) takeovers and features when an athlete is on-site

Manually find your customers on Instagram/Facebook and follow/like. If they have public profiles, comb through their following list to like/follow those users with a clear ski interest.

Paid ads in social media directly to your downloadable content or a specific landing page/offer on your site. 

Polls and surveys to engage with your following

Comments, shares, liking within the community to stay active and help your account surface more frequently and with a more relevant audience. Your engagement helps the platforms understand your network and serve your content to those who are closely aligned with your offer. 
Of course, these social platforms require spend and effort. Be sure that your efforts drive toward building your email and contact list. You will want to remove the "middleman" of social media as much as possible, as costs continue to increase on these platforms for reaching your target audience. 
Social Accounts/Social Paid Advertising
This is a somewhat untapped resource. Being active in online forums and communities can help new people become aware of your operation. By participating in Backcountry Skier groups, posting on forums, answering questions on Quora, you can often engage people who match your target audience without paying a dime.
One important aspect of this is that self-promotion is frowned upon in these forums and communities. Instead, just be a regular participant. Lend your knowledge and help others. It may seem like an indirect line to getting a booking, but people will remember your name when they start their research if they saw you post in their favorite forum. 
List Your Adventures on Heli
You probably knew this suggestion was coming, but working with Heli can help you reach a wider audience that we are working to build each day. We employ many of the above tactics and continue to grow our community of adventurers across multiple sports. By listing your adventures on heli, we will do the work to promote them on your behalf. You can sign up here to get your adventures listed on Heli.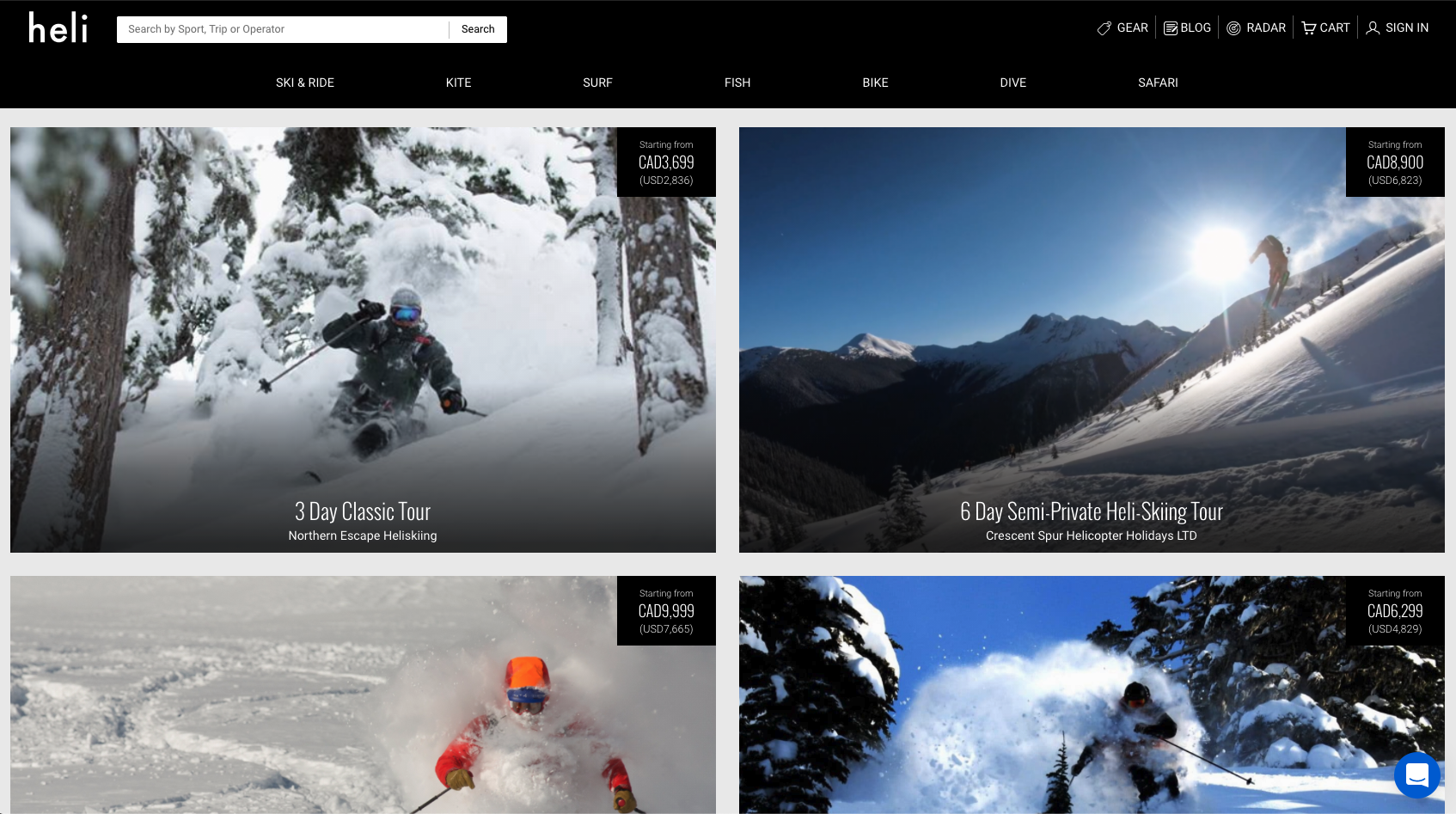 Did you know that Heli also offers a booking software? 
By running your bookings and reservations on HeliOS, you get the benefit of our technology for your business, plus easy access to our community of skiers and riders. The Heli marketplace and operator software are fully connected. When you build your adventures, they can be listed in our marketplace. Our audience is young and digitally engaged. We can help you reach our community to gain incremental sales. We are the only reservation software solution that actively sells your product.