Here's the top 12 must have items on our definitive gear list of what you need to go heli skiing or heli boarding.
We get this question a lot. "What do I need in order to go heli skiing?" So we created this list to help you out. But this isn't just some checklist on the basics, think of this list more like a recipe of gear awesomeness required for general badassery and pow slaying. Alright, I'll tone it back. But these are the gear items that are absolutely essential if you want to have a good time on your heli skiing trip.
Alright, so here is the deal. Layers are a balancing act. You want to stick to the rule of three. A single base layer under a down insulator and a shell up top. On the bottom, underwear (not cotton) a base layer and shell pant. That's it.
If you go overboard with the layers, you will be overheating and uncomfortable. You are gonna be doing a lot of moving around, hoping in and out of the heli. The last thing you want is to feel like you are wrapped five layers deep in bubble wrap.
Also, the NO COTTON rule applies. Go with something synthetic or wool for your baselayer. Whatever you wear close to your body needs to wick sweat and dry quickly. Nothing is worse than sweating and then freezing. It's a quick way to be miserable and ruin what could have been the best turns of your life.
This is one that most people forget. Buff is the brand name we trust, but there are plenty of brands out there that make a similar product. You are gonna need face protection. For some, having a high neck on the jacket that you can tuck your chin into might cut it. But we highly recommend you bring something that is going to keep your neck warm and help you resist the elements.
No matter what kind of conditions you are in, a Buff is gonna save your face. It can protect you from windburn or bitter cold which can chap your skin. The wash kicked up by the heli can also shoot snow up into the air.  It can also protect you from sun beating down from above and reflecting off the snow, making sure you avoid a sunburn. Play it safe, cover your face and keep your modeling career intact.
4. Multiple Pairs of Goggles – Changeable Lenses or Having Options
Okay, so not all of us have a couple pair of ski goggles, unless you are diehard or working in the industry. Without a prodeal, goggles can be pricey. But here's the thing. Nothing sucks more than skiing or riding blind. If you want to have a good time, you have got to see.
The first thing is the right lens for the snow conditions. Many goggle brands make googles that come with interchangeable lenses. In fact, most top of the line goggles will come with this feature. The Smith I/O line as well as the Anon M2 Goggle are some of the best solutions for interchangeable lenses. So, now you have the flexibility to have a few options for the type of lens to suit the light conditions. Lighting can be impacted by time of day, time of year, and weather. Make sure you don't just bring your blackout lenses and expect everything to be crystal clear.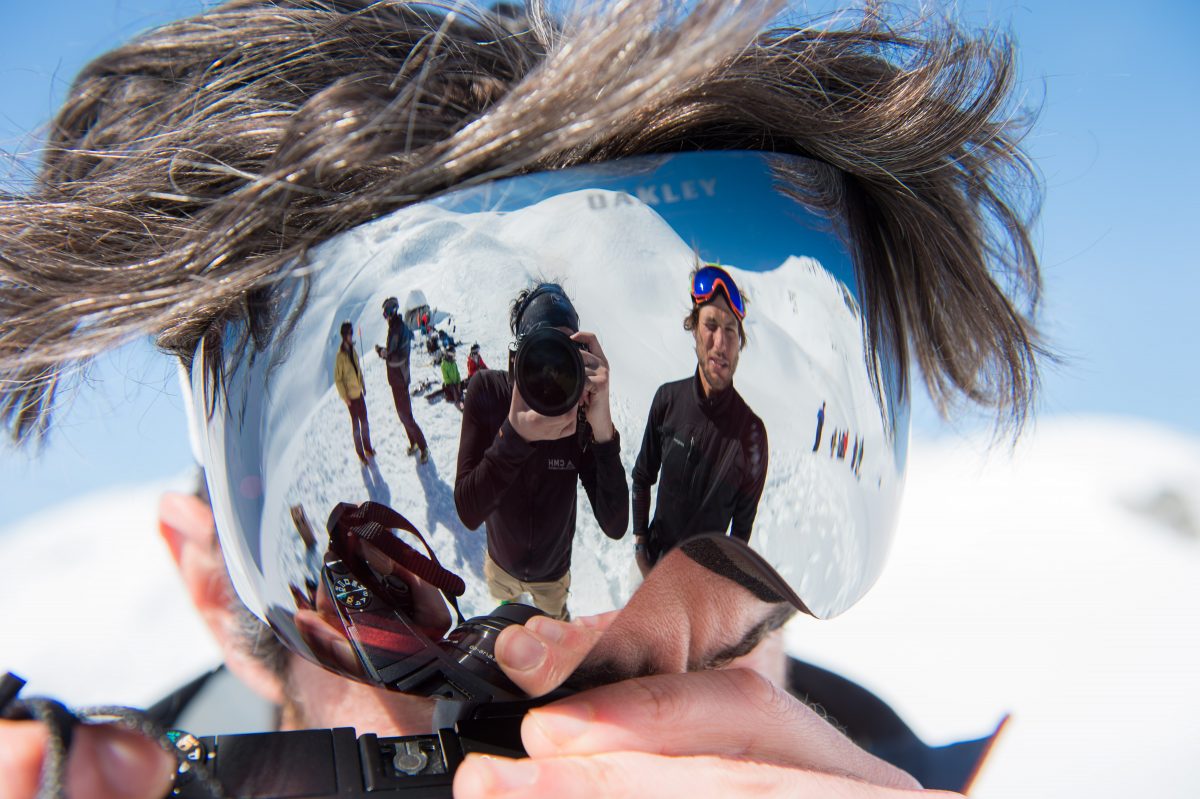 But just having an interchangeable lens system doesn't mean you should just pack one pair of goggles. But if you are about to spend your hard earned cash on a big adventure, invest in a couple pairs of goggles to have with you. Goggle fogging can happen even to the best quality goggle.
As Andy, Heli co-founder and heli ski addict puts it "For a variety of reasons, having multiple pairs of goggles in your pack is key – most specifically, moving in and out of the helicopter and thus change in temperatures quickly can lead to fogging. Snowfall, faceshots, and sweat all increase likelihood of fogging as well. If you take a fall and get snow on the rims and mesh of the goggle, this can also increase fog likelihood."
Be safe. Pack an extra pair or two.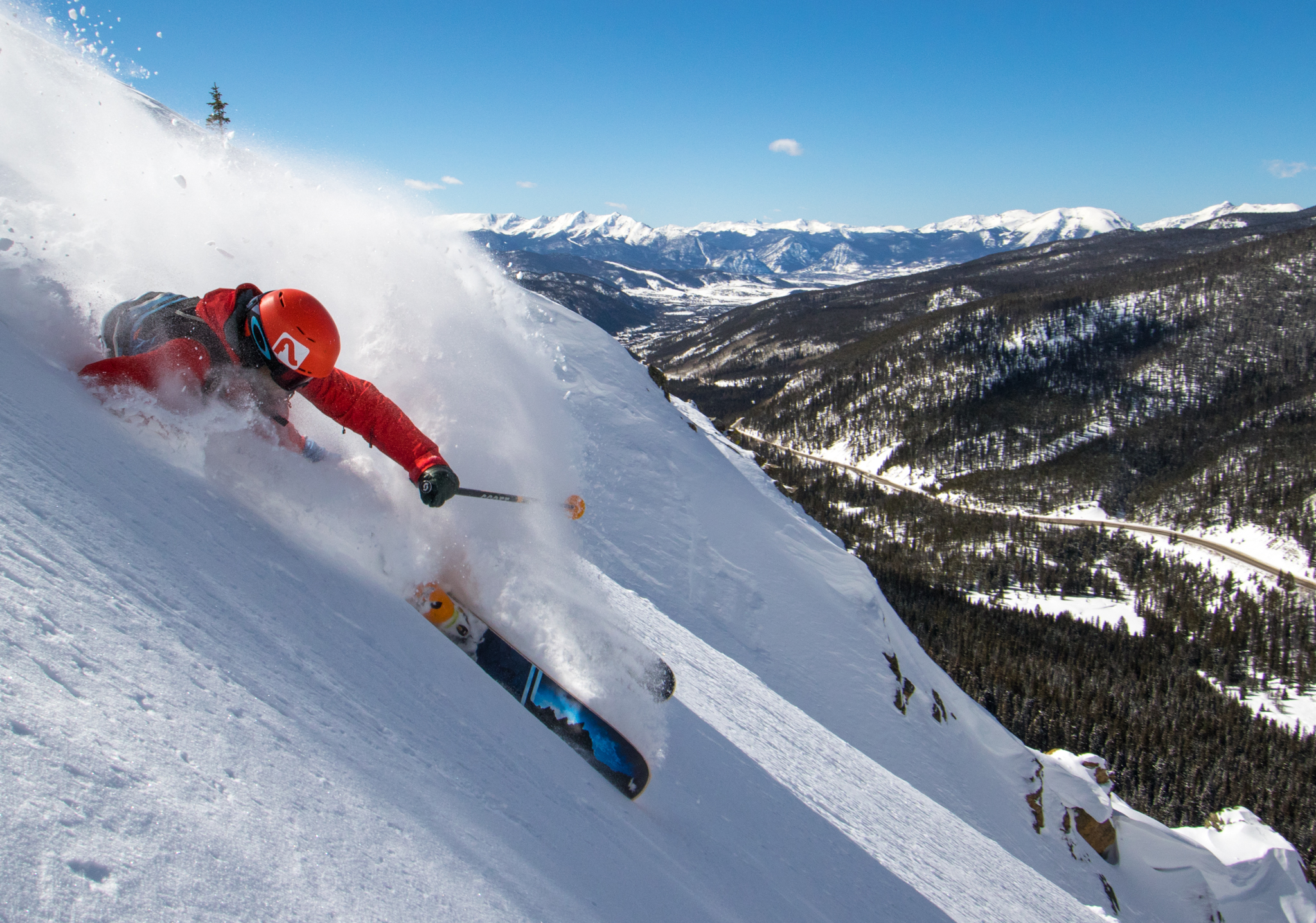 So, this isn't Squaw Valley in the 1970s. Although that mountain was full of pioneering badasses with flowing locks, now isn't the time to be rocking a headband. A good helmet is the smart option, and has a lot of perks. First, a helmet with an integrated goggle system will actually help to reduce fogging in your goggles. Where a hat can trap more moisture and heat, many helmets have airflow systems that draw moisture and heat away from the vents in the top of the lens and through the helmet. Trust us. It's science.
Perk number 2. Nothing keeps your head warm like a helmet. Seriously. It isn't going to get wet and cold. The fibers won't freeze. And the padding is comfortable and it shields from wind. For many reasons, a helmet is just going to be warmer, and better at regulating temperature if things get hot. Thank you air vents.
Perk number 3. Protection. Okay, so yes, a helmet is going to make a difference if you have a rough crash. We all know that. But even for something small, like a hitting a branch in the trees, wearing a helmet means this is no big deal. Without one, you could get a gash or just get rattled more easily. Wearing a helmet is going to mean that some little "whoops" doesn't become a bigger thing than it has to.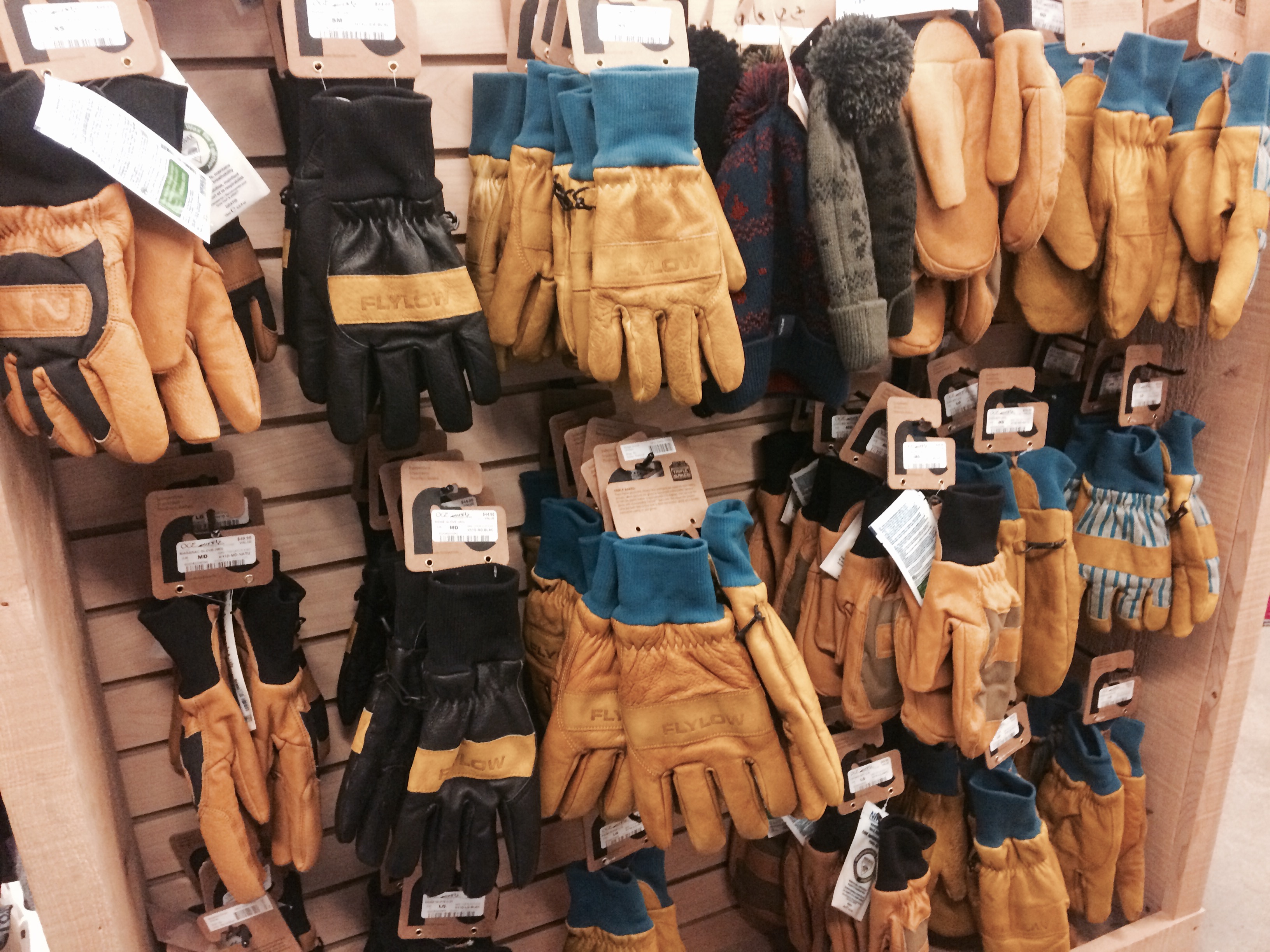 Cold fingers are no bueno. A good pair of gloves is essential. Those leather gas station gloves that you bought last winter just aren't going to cut it. Go with a reputable brand, like Hestra, Swanny or Flylow. Choose something that is going to offer warmth and comfort.
We recommend bringing at least 2 pairs. Though most lodges and hotels have places where you can dry out your gear from the day before, it's still a good idea to have a solid pair of backup gloves.
7. Ski/Board Bag (Rolling)
This is huge. Having the right bag to get your gear to and from your destination is worth it's weight in gold. Though many of the operators do have rental gear available, if you have a setup that you like and feel confident with, then you should be bringing it. That being said, make sure the setup is right for the terrain. A heli trip is not the time to bust out your everyday groomer skis. If you're bringing your own skis, go big. If you are bringing your own board, make sure it has good float.
A rolling bag that can fit all of your gear is so clutch. It will make your life getting around so much easier. Dakine makes some of the best ski bags on the market at a reasonable price. They also make great snowboard bags as well.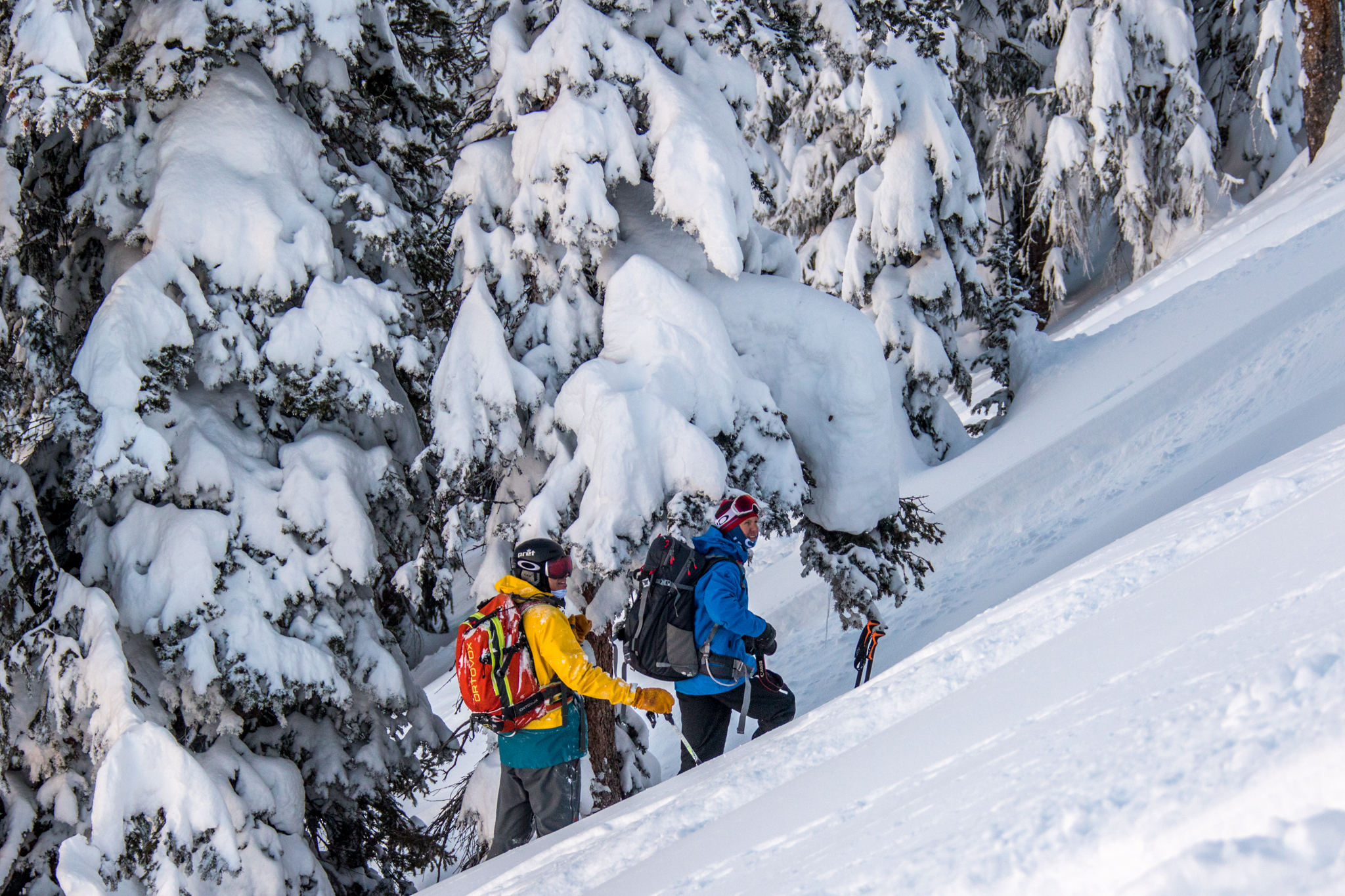 Avalanche safety equipment is as follows. Beacon, Shovel, Probe. Though there are many other tools that can be helpful in avalanche prevention, tools that help you in identifying conditions and tools that help you with recording information, these will not be essential on a guided trip with a premiere heli ski operator. You can bring your AIRE blue book along with you if you like, but you aren't going to need it.
Beacon, Shovel and Probe are often provided by the operator if you don't have them, but if you do have them, it is a good idea to bring them along. Having avalanche safety gear you feel comfortable with is far more important than saving some space in your gear bag (see ski bag above).
That being said, these items are an essential part of safety, but it is highly unlikely that you will need to make use of them. You will likely do some training and practice with the guide on your first day, but the operators we partner with have a focus on safety and training.
This can be a tricky one. Some people like to bring their own airbag pack if they have one.However, the FAA does not allow passengers to carry on or check the compressed air tank needed to deploy most airbags. This means mailing an empty canister to your destination, or coordinating picking one up when you arrive. For the sake of convenience, we do not recommend that you pack or purchase an airbag pack prior to your first trip. However, for a more experienced heli ski traveler, having your own pack that you are comfortable is often worth the extra effort.
10. Comfortable Ski/Board Boots
This particular item should be starred, underlined and highlighted. But for the sake of everyone reading this on a screen, I'll just say this. COMFORTABLE BOOTS WILL MAKE OR BREAK YOUR TRIP. You've been saving up for this and have finally pulled the trigger. You are on the trip of a lifetime when all of a sudden, the arches of your feet hurt so bad you wanna break one of your fingers just to take your mind off the pain in your feet, Major Payne style.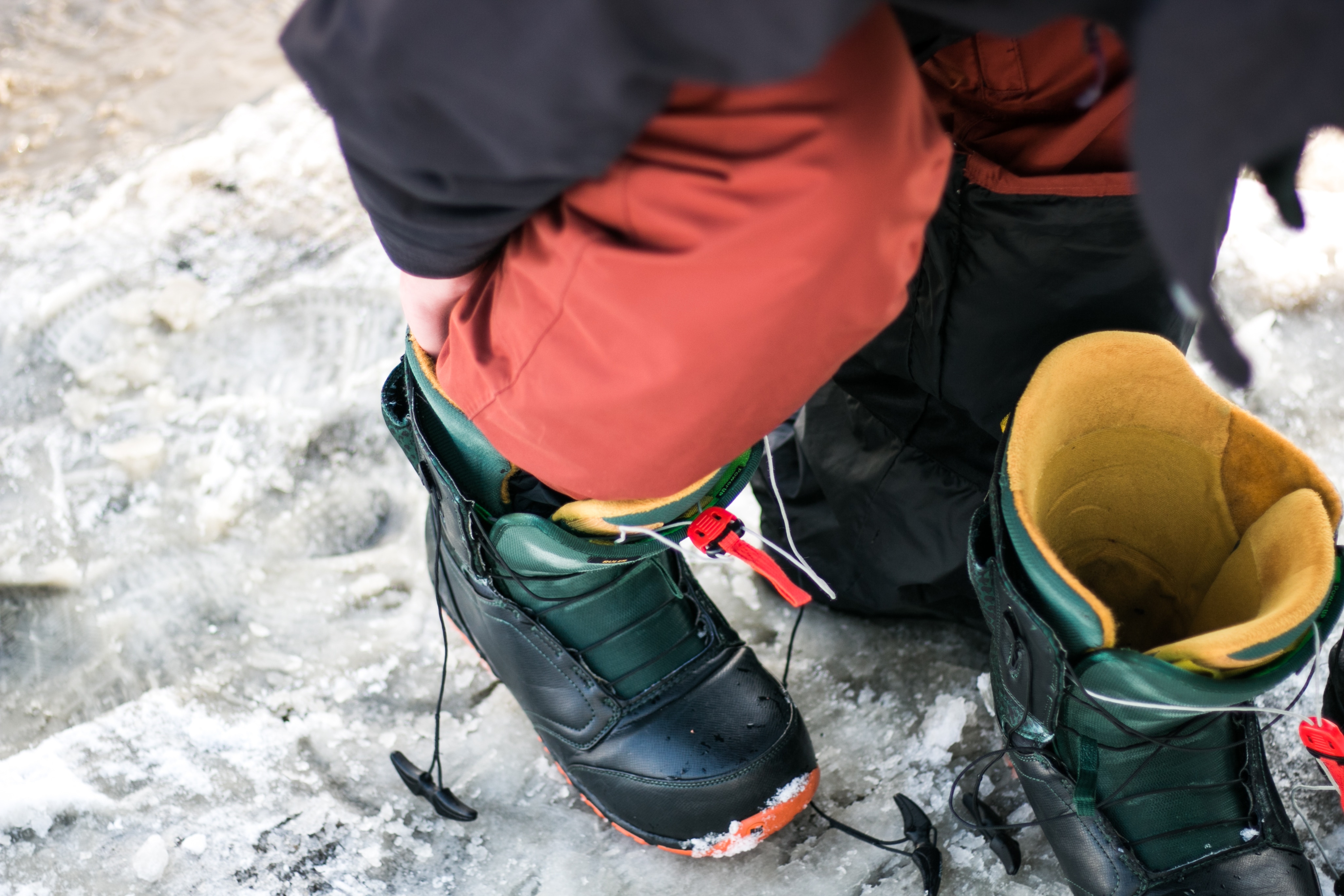 Do yourself a huge favor. Make sure your boots are ready to rock. Have a solid footbed, and make sure you can go all day. Invest in a new pair, especially if that old pair of snowboard boots has just given up, becoming lifeless and packed out. For both skier and boarders make sure they are fitted by a boot fitter. Skiers, have them custom molded, the works. Then wear them around the house for a couple weeks. Watch some rad TGR movies while you walk around the living room. Even better, try to get out to the resort for a couple days just to break them in. It typically takes 4-6 full days for boots to pack out, both for snowboarders and skiers. You don't want them to be brand spanking new for your trip. Spending some time in them on the hill will also give you the opportunity to identify pain points, and hopefully have them corrected by your local shop. 
At Heli, we partner with Surefoot for this exact reason. We recommend that all skiers make the trip to a local Surefoot location to have get new boots or have your boots looked at. You want to make sure you have a solid custom footbed and the proper boot liner. Make sure to ask about the Contoura series of custom ski boot liners. Trust us, you will not be disappointed. Not only does Surefoot focus on high performance, they will be the most comfortable boots you've ever had. Riding in a factory boot just isn't an option here. You need to make sure your boot is going to perform without cutting off circulation to your toes halfway through your first ride.
For snowboarders, things are a bit easier. But go to your local shop and talk to a boot fitter. Boots are the most important part of your setup. Make sure you are doing it right.
Lights. Camera. Action. If it isn't on instagram, it didn't happen. Seriously. Don't you want to relive this awesome memory over and over again? Plus, it's time to make everyone jealous of your epic trip.
12. Apres Tshirt/Hat, Lodge Slippers
Often overlooked, but definitely essential. Slippers are gonna be the first thing you want to throw on when you get to the lodge. And a good party T will be great for unwinding at night. What's a party T-shirt? Well, these Heli Ts are exactly what you need to show everyone in the lodge that you go hard both on and off the snow.