Have you ever driven around a ski town, come upon an extraordinary house, and wondered what on Earth it looks like inside?
We assume your answer is a resounding "yes." After all, these towns are packed to the brim with luxury homes, and the homes are packed to the brim with all the ski trip bells and whistles one could ever dream of. If only you could have a peek inside.
Well, today is your lucky day. We're going to take you through one of the most impressive ski homes there is, in one of the greatest ski towns around. Welcome to the Whiteworth Chalet in beautiful Revelstoke, British Columbia.
We'll cut to the chase: This chalet is built for ballers. It's not cheap. But it is 100% worth every penny, guaranteed. The chalet sleeps up to 10 and an on-site staff takes care of your every need from start to finish. We're talking fully-catered meals, a full-service bar and select wines, wellness classes, personal massages, private transportation, sauna, you name it. It's the type of trip you and your crew will never forget. And we haven't even talked about the skiing yet.
Heliskiing Options in and around Revelstoke
The heliskiing opportunities in the Revelstoke are mind-blowingly vast. Operators like CMH, Selkirk Tangiers, and Eagle Pass have been taking guests deep into the mountains for many, many years and they've still got room for you and your crew this winter. Click here to browse through a dreamy list of options.
Skiing Revelstoke Mountain Resort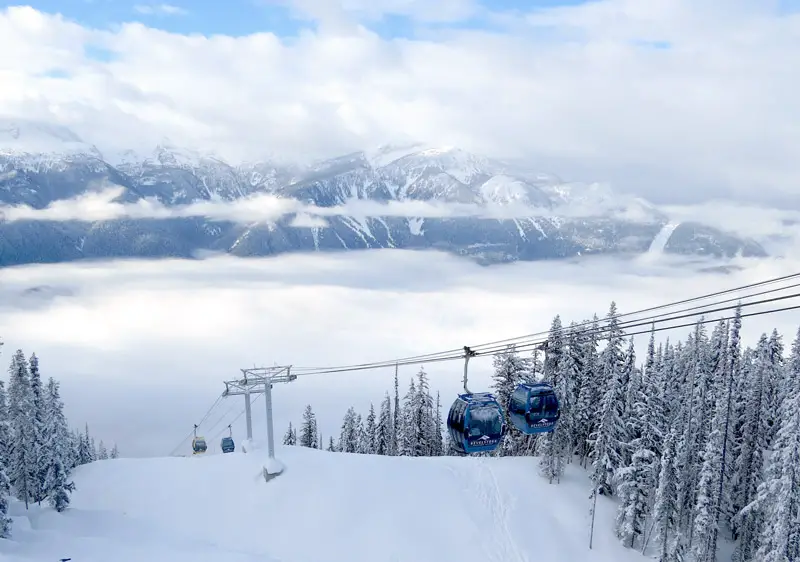 While heliskiing is always choice number one, don't forget that Revelstoke Mountain Resort is still an expert skier's paradise, boasting over 5,600 feet of vert—the most of any resort in North America. And thanks to 35 feet of average annual snowfall, that vert is typically covered in a dreamy blanket of pow. There are only 5 lifts at the resort, each of which drop you among the best terrain imaginable—with access to legendary bowls and chutes up high. There's no place quite like it.
Visiting The Town of Revelstoke
The town of Revelstoke has become a popular place to call home for adventure-seekers of all types. FREESKIER Magazine calls it "the best ski town in Canada" and for good reason. The people, the old western vibe, and the towering mountain landscape all feel otherworldly. You'll also love the best places to eat in Revelstoke—from sushi at Kawakubo, to indulgent aprés at The Village Idiot Bar and Grill. (Yeah, it's actually called that. And trust us, it's better than it sounds.)