Covering 3,600 acres and totaling 30 chairlifts, Squaw Valley Ski Resort is recognized as the second-largest ski resort in the United States. It is also widely acknowledged as home to the 1960 Winter Olympics.
World-renowned because of their deep snow and authentic village, Squaw is perfect for beginners and aggressive skiers looking to push their skills to the max. Averaging 450 inches annually, powder days have become a common commodity at Squaw.
In the summer there is an abundance of beautiful hiking, mountain biking, climbing, and a personal favorite, golfing. Its close proximity to Lake Tahoe gives it the dual-threat mountain and lake experience.

Towering the left side of Squaw as you pull up to the Village is one of the most iconic lifts in North America, KT-22. A ride on KT-22 and a run down Chute 75 (a personal favorite) will leave your legs burning and leave you longing to hop back on one of the greatest ski lifts in America.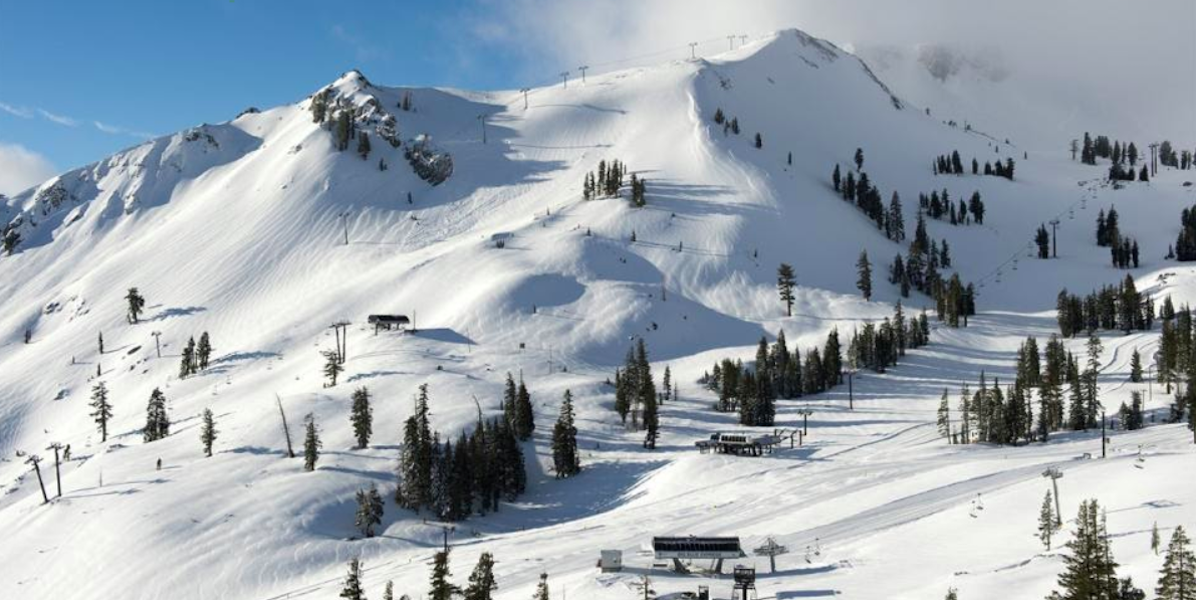 If I'm looking to get my legs warmed up and maybe catch an afternoon groomer, the Headwall is where I am going. The 6-person Headwall and Siberia lifts will get you where you want as fast as possible. I recommend grooming the Mountain Run a whopping 3.2 miles down to the Village. If you are looking for some big drops then the cliffs on the Headwall are where you want to be.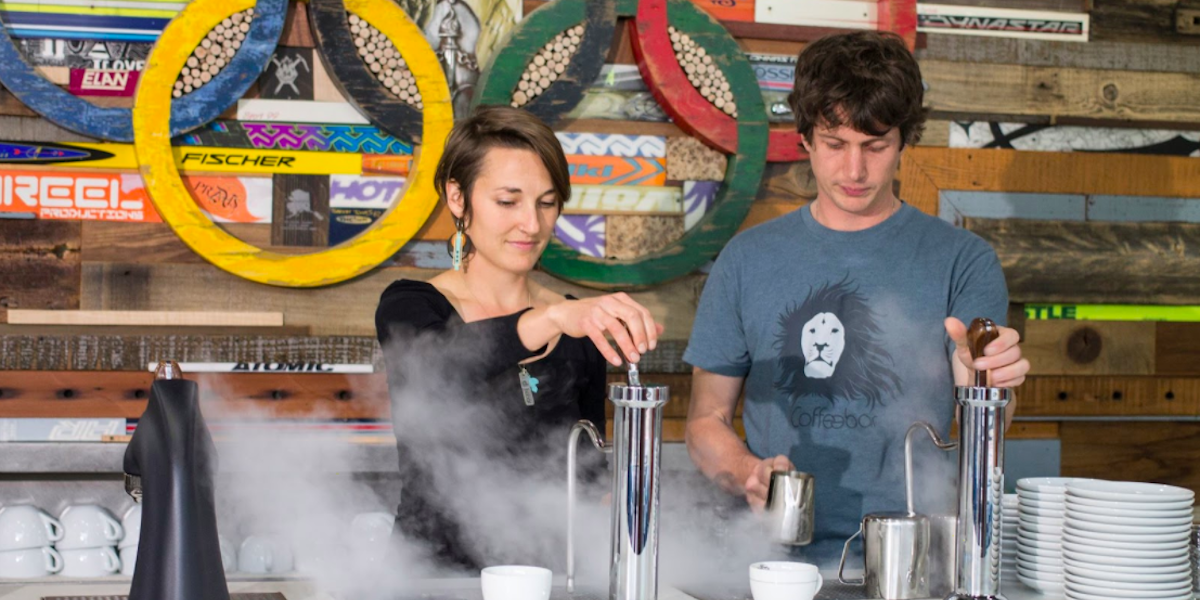 Located in the Village, Coffeebar holds its reputation for delicious hand-crafted coffee and a breakfast burrito perfect during the tram ride to the top. Whether you are looking for some caffeine in the morning or a cold IPA after a strong day on the mountain, Coffeebar is your go-to.
A charming cafe located off of River 1 Road and Alpine Meadows Road, Crest Cafe is a perfect spot to quickly grab a breakfast burrito or a breakfast sandwich (and save a few bucks) on your way up to Squaw. I highly recommend getting a croissant or muffin, both baked fresh every morning!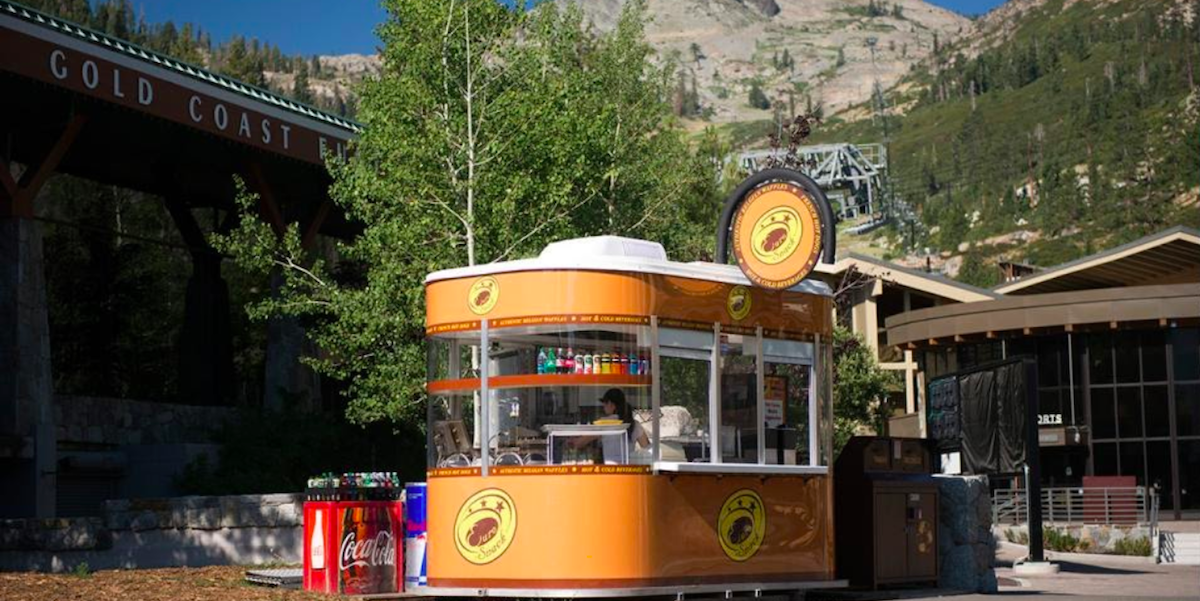 Look for the small kiosk located right next to the Gold Coast Funitel to find this authentic snack bar, a must for a quick snack. I recommend the Belgian waffles or a frog dog. If you are in a rush to get on the hill, Euro Snack is the perfect spot.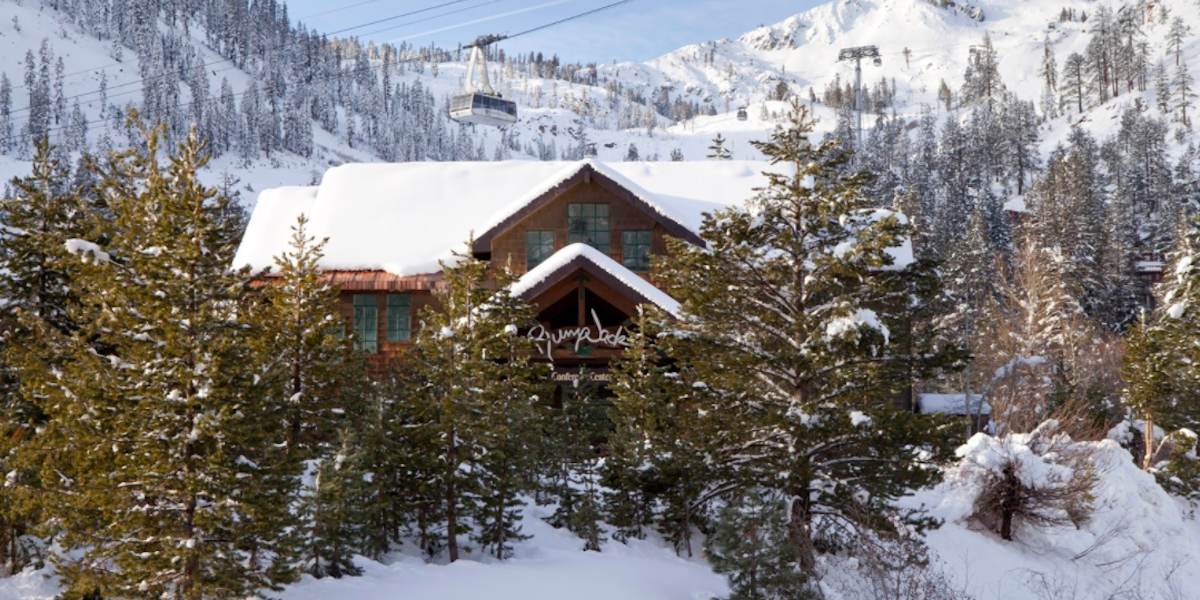 Looking for a more fine-dining lunch experience? The PlumpJack burger with a fried egg is a no-brainer. A table on the beautiful patio located in the Village makes for the perfect afternoon.
Just a short walk from the base, Soupa is an ideal spot for a quick pick up or dine-in to enjoy a cup of their delicious chowder. This is one of my favorite lunch spots. Not only are their sandwiches healthy and delicious, but they also support local businesses. 
With four unique margaritas and an extensive selection of high-end tequilas, Tremigo is always a great time. A large bar and open seating make for a great spot to gather with friends.
Rocker is hands down the best spot to apré and watch skiers make their way down to the base. Inspired and remembered by local legendary skiers, the Rocker holds the best apré in Squaw and is a great spot to catch your favorite sports team. I highly suggest ordering the Rocker nachos while you are there.
Auld Dubliner – "The Dub"
Situated right in the heart of the Village at Squaw is a little piece of Dublin that pairs perfectly with an apré. The Dub's wide beer selection and authentic feel are only a couple of reasons why I continue to go back. Oh, and you cannot miss the open music on Friday nights, always a rockin' time.
La Chamois – "The Chammy"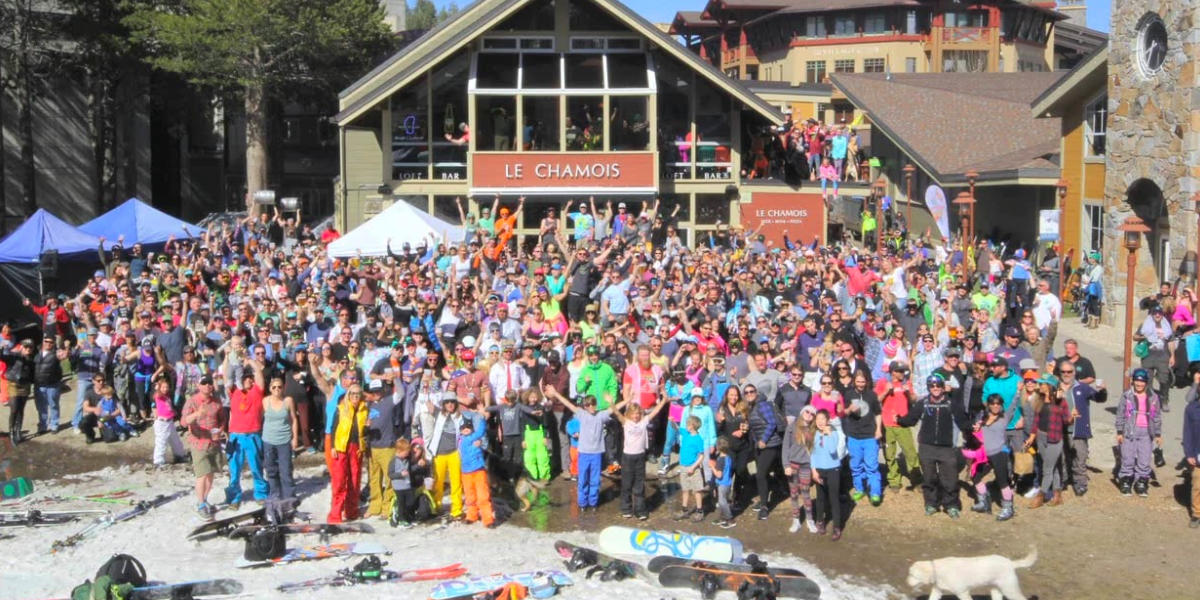 This iconic bar holds a massive outdoor deck for a perfect apré as you catch the afternoon sun. Inside you will find memorabilia plastered across the walls from the 1960 Winter Olympics. Stop in for a slice of pizza and a beer and trust me, you will thoroughly enjoy The Chammy.
Being one of the smaller bars located in the Village, The Slot Bar gives you the feeling of being in a true, classic ski town bar. Old ski videos are on replay behind the counter, and they even have a shot ski with click-in glass boots. It really is the perfect spot to end a long day on the hill (or to continue your apré).
The Village at Squaw Valley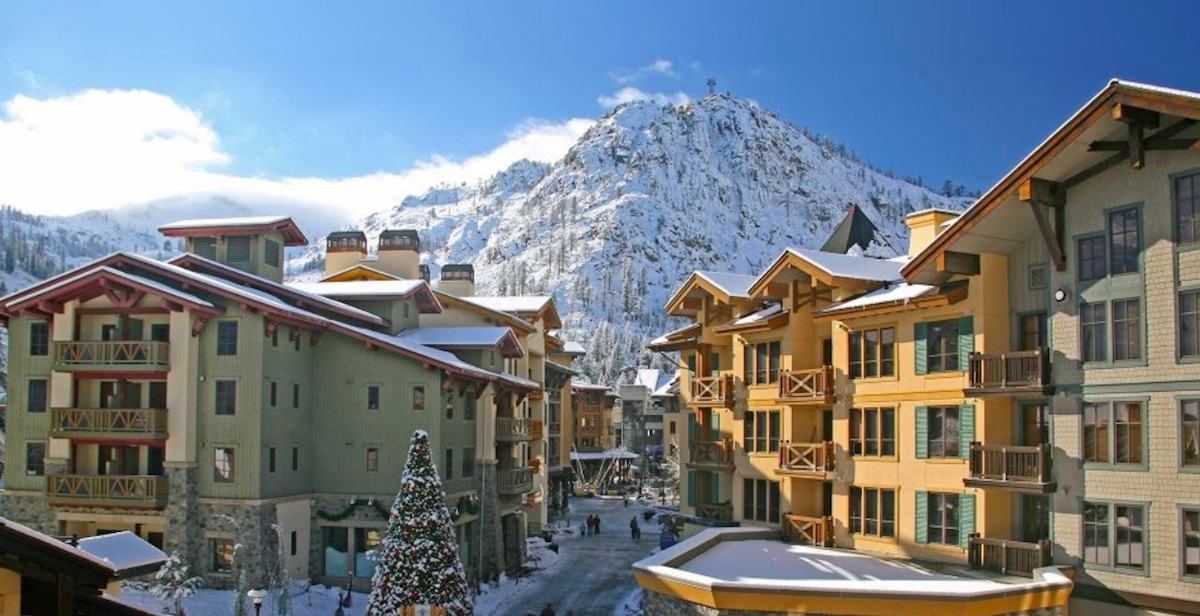 Stay in the heart of the Village and enjoy the close proximity to shopping, restaurants, and nightlife. With a private balcony and access to the Ariel Trams and the High Camp Pool, the Village has it all.

Ski-in and ski-out of this gorgeous "mega-hotel" and enjoy the close proximity to Squaw and North Tahoe. With three outdoor pools, an exclusive on-property lift for access to Squaw Valley and Alpine Meadows, and several fantastic restaurants, the Resort at Squaw Creek has everything you need. To add on, there is a Robert Trent Jones Jr. championship golf course that fits perfectly with the Sierra Mountain terrain.
PlumpJack Squaw Valley Inn
A smaller and more intimate lodge, the PlumpJack sits just at the base of the Tram allowing for ski-in and ski-out access. For those traveling with their four-legged furry friends, the PlumpJack provides a handful of amenities for all pets. Unwind and enjoy the beautiful outdoor patio and s'mores pit while taking in the beauty of Squaw Valley.
Activities & Things To Do
Situated next to the Truckee River between Squaw Valley and Sugar Bowl with over 3,000 acres of skiable terrain, Pacific Crest Snowcats is arguably one of the best-kept secrets in Lake Tahoe. Your options are truly endless. Go check out their single-seat and private cat options on Heli!
Roller Skate at the top of Squaw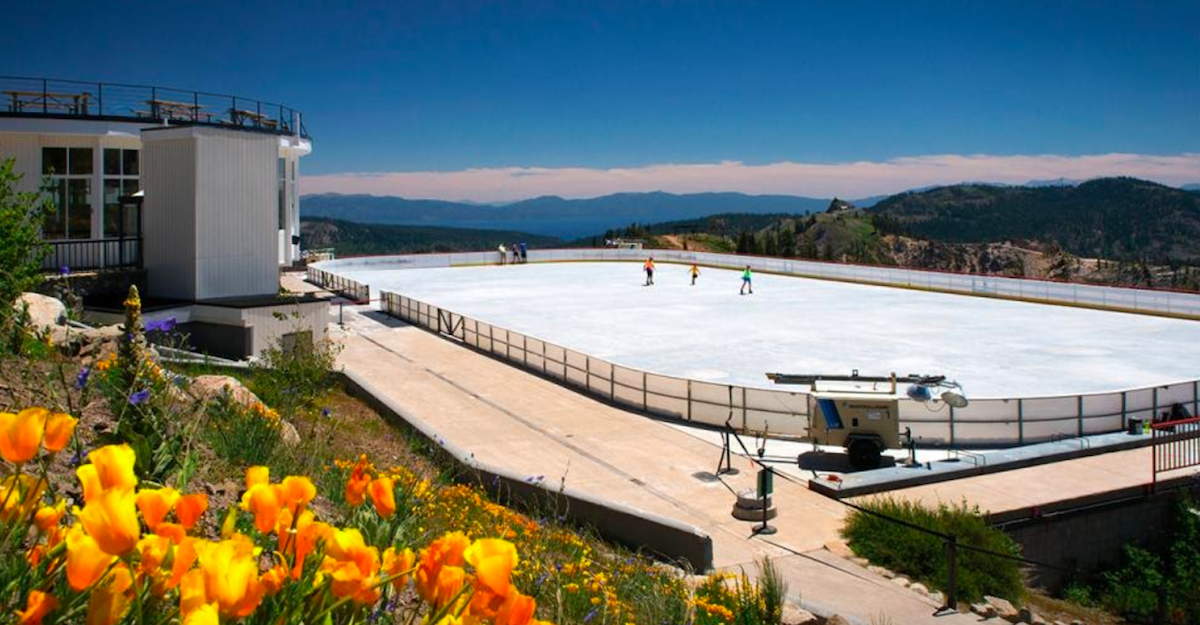 Located at High Camp at the top of the Cable Car is one of the most beautiful rinks in the world. Gliding around with panoramic views of the high Sierra Mountains is surely a memory you will never forget.
Head on over to the Resort at Squaw Creek for over 18kms (400 acres) of beautiful cross-country trails. Winding around the towering Squaw Valley on well-maintained trails is one of the best ways to truly take in the scenery.
It would nearly impossible to gather all the amazing places to ski, eat, drink and enjoy when visiting Squaw Valley in North Lake Tahoe. Below is a list of places that certainly deserve recognition.
Pete n' Peters (Old pub with delicious food and great drinks)

Sunnyside Restaurant (Situated right on the shore of North Lake Tahoe. The fried zucchini and fresh fish tacos are a MUST)

Blue Agave (Fantastic margaritas and a great place to gather with a large group)

The Post Office (This local gem, located closer to King's Beach, is perfect for a romantic dinner)

Fireside Pizza (Looking to order in and enjoy a nice pie next to the fire? This is your spot)
A special thanks to the Leydecker Family for always hosting the Aspen crew!