"B4 Kitesurfing life was different" is the constant theme of the two owners Elif Taluy and Tiago Cortez lifestyle and kite school. Very clever to say the least, they have used the idea of "B4" and created their own journey through this motto. Elif and Tiago are passionate about making a change in your life and love seeing their guests challenge themselves to try something new. Transforming the mind set that you can fly the kite and get up on the board is the message they preach. In their eyes, it's guaranteed that you will leave without any regrets. The pure adrenaline rush when the wind pushes your kite while you are speeding over the crystal clear water is something everyone should get to feel.
Elif & Tiago: Their Shared Addiction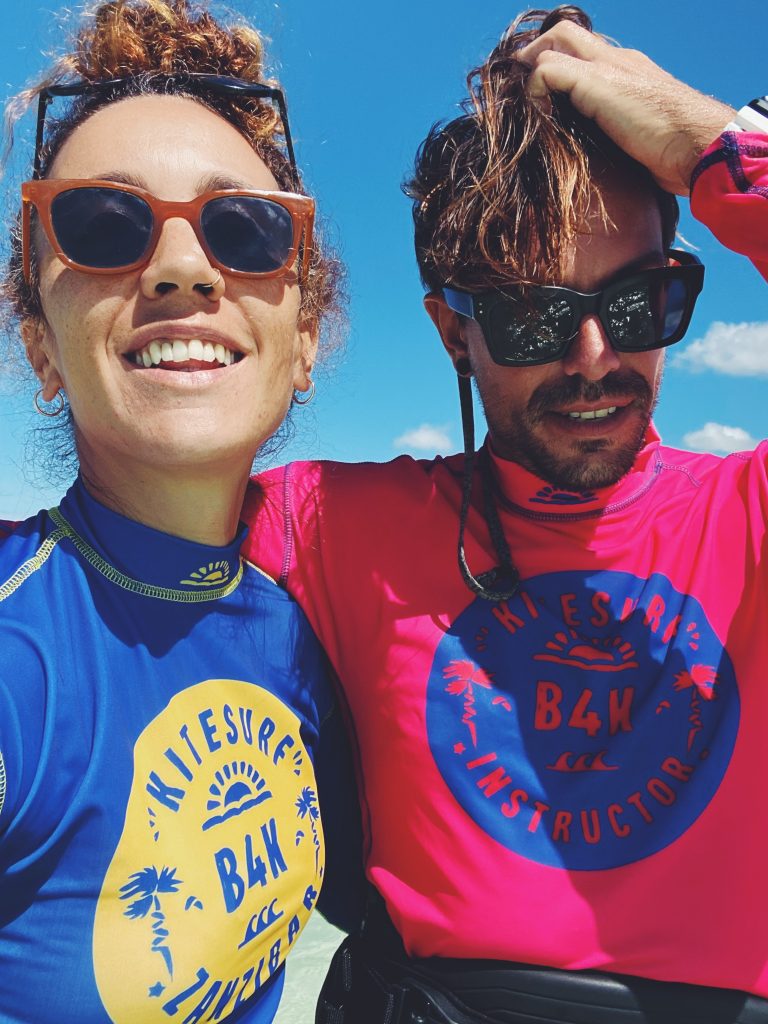 They didn't know each other before and it was their shared addiction that brought these two together. We asked them, how did this all begin!
"After we both have worked as certified kiteboarding instructors for many years in different countries and surf spots, we chose to call Zanzibar our new home. We fulfilled our dream in having our own kitesurf school and created B4 Kitesurf Zanzibar. Today, we are inspiring students and professionals in learning how to kite and improving their kite skills. Kitesurfing changed our lives and so did Zanzibar. This wonderful island and kite spot is where we met, fell in love, got addicted to the wind, to Paje beach as well as with the idea to open our own Kitesurf school. We made our dreams come true and are excited to welcome you to B4 Kitesurf Zanzibar."

Elif & Tiago
With having long white sandy beaches and the endless crystal blue Indian Ocean as their backdrop, it creates a special vibe that draws beginner to expert kitesurfers around the world. Paje Beach is located on the Southeast side of Zanzibar and offers abundant flat waters and also waves far out on the reef.
When to come?
The windy season is split into two: mid December to February, which is known as the Kaskazi, this blows from the North at around 12-25 knots, most days between 15-18 knots. The Kuzi blows from the South to SE from May to October, but can start in April. The Kuzi is the stronger of the two and blows most days between 12-25 knots but averages between 15-18 knots. Calmer in the morning and gets stronger normally after lunch. Best months are June, July, August and December, January, February where you can expect excellent wind most days.

Elif & Tiago
With both seasons providing top notch wind gusts, it's quite a popular spot for kitesurfers. Seen to be less touristy than the northern part of the island, Paje Beach has a balance of being both peaceful and active. Having the option to either get lessons, rent a hydro foil or stand up paddle board or just lay out in the sun is what makes B4 Kitesurf the spot to be. They also offer accommodations which make your evening after kiting that much better. You can just sit back and relax, order a drink at the bar and eat delicious local foods and then crash in your private hut and wake up and do it all over again. Seems like paradise to me!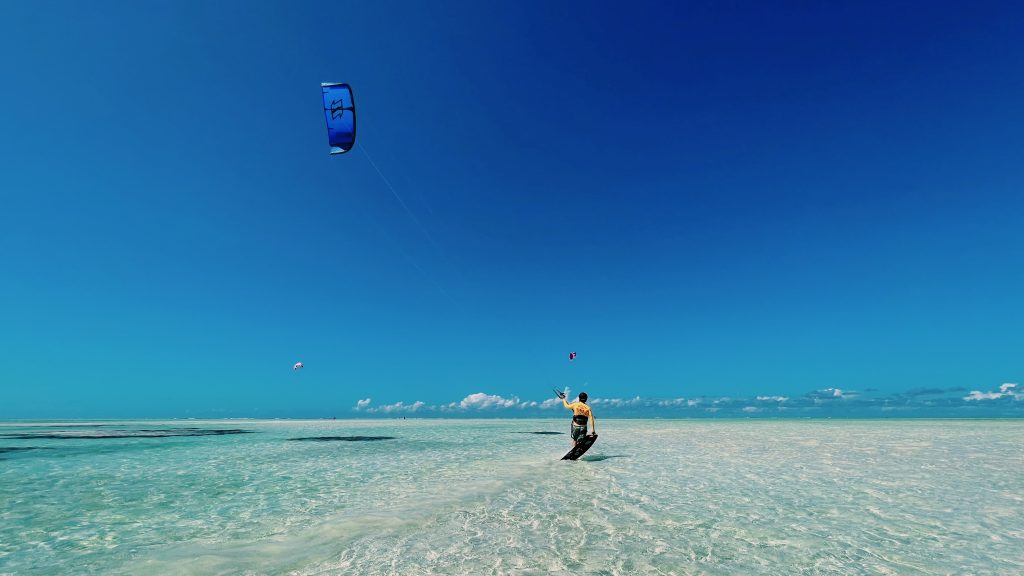 What makes B4 Kitesurfing so special?
B4 Kitesurfing the Zanzibaris and Maasais haven't had the chance to display their handcrafted products next to kites, twintips, leashes and foiling boards. But B4 Kitesurfing Zanzibar shares their space with the idea of supporting the locals, emphasizing their culture as well as saving the beautiful coastline of Zanzibar island. Zero waste clothes are contributing to not only save the ocean but also to keep the playground of kitesurfers clean. Let B4 Kitesurf Zanzibar Shop surprise you with the creative offers we manufactured together with the local community from the island!

B4 Kitesurfing as a beginner you weren't able to share the best spots with the advanced or professionals. But while kiteboarding you share the beach, the waves, the water with it's perfect conditions with everybody. Learn and improve your kiteboarding skills on Zanzibar island with consistent wind, warm weather, shallow water, high quality equipment and the best certified and experienced instructors.

Elif & Tiago
B4 Kitesurfing this place used to be an empty beach. Today it's not only the perfect spot for kitesurfing, but also a place where people eat, drink, socialize, party and relax. Our kite school is located right at the beachfront of Paje connected to the restaurant and beach bar of B4 Beach Club. With relaxing music, great food and a cocktail in your hand, take a rest at the pool or enjoy the wonderful colors of the sunset before the night out. On Tuesday and Saturday night B4 Beach Club organizes beach parties where locals and tourists enjoy dancing barefoot in the white sand. On the next morning, feel free to book a relaxing massage at the B4 Spa or challenge your friends at the glow in the dark Minigolf. Be ready for a lot of fun, meeting other kitesurfers and guests from B4 Beach Club and make this holiday memorable. This is your place!

Elif & Tiago