We would like to formally welcome Jake Kelsick and Megan Kelsick as the first members of our Heli Adventure Team. Jake and Megan are champion kitesurfer and have always been part of the Heli family and together they were a natural selection as our first members of this new community.  Since 2002, they have been kiteboarding and now run Kelsick Kiteboarding over the crystal clear turquoise waters of Antigua. 
Heli is building an Adventure Team with members of the adventure community who we think embody the spirit of Heli.
Megan Kelsick: Kiteboarding Artist
Where are you from and how did you get introduced to kite boarding? As well as being a kiteboarding pro, you're also an amazing artist, tell us more about what inspires you your work!


I'm from England! Although I've been living in Antigua for 6 years now which is when I started to dive into my art and now I am a full-time artist, running my own website which sells kiteboarding and ocean inspired goodies! Around 4 years ago I met Jake which is when he introduced me to kiteboarding! He's the one who taught me and I've now been kiting for a little over 3 years.

Well, I started drawing properly in college but as soon as I left college I swore I'd never pick up a pencil again! That was until I started kiting and I guess it just got the creative juices flowing! Experiencing the wipeouts and successes of kiteboarding normally spikes my creativity and I'll try to recreate that moment as a drawing. I also love the community I'm creating as an artist – especially within the female kiters out there – so having that keeps my inspiration and motivation alive!

Megan Kelsick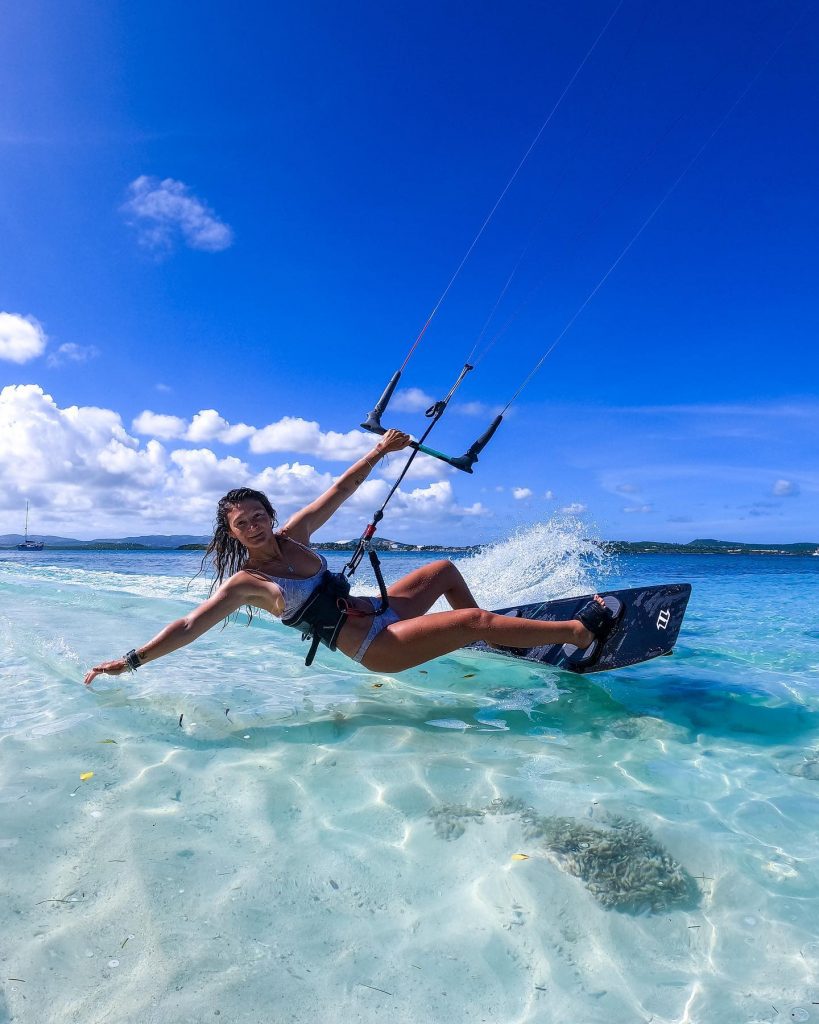 What is your life story as seen through kites and water?
My Dad was always a sailor so I was able to watch and learn and from him from at a really young age. I was able to get my captains license when I was just 17 and my love and appreciation for the sea has only kept growing since then. Kiting has allowed me to have more time on the water and is a much more intimate sport than sailing, so now I spend most of my time kiting instead!

Megan Kelsick
Tell us about the most epic kite day of your life!
The most epic kite day has to be when we were on one of the catamaran kite trips! There's a place in Antigua called the North Sound which is only accessible by boat so it's pretty special. It's amazingly flat, calm, and clear too so a real 10/10 spot. We'd had a couple of days where we had NO wind so to turn up to this amazing place AND have wind was incredible. I just remember being out on the water and thinking "wow, how is this even real?" It really was such an incredible place and feeling.

Megan Kelsick
I'm from a small island in the Caribbean called Antigua, I started kiteboarding in 2003/04 and I got into it mainly because of my dad. He was big into water sports and windsurfed a lot before he got into kiting. I used to hang with him at the beach and when he got into kiting I had the chance to give it a go and it stuck! 15 years later I'm a full-time kiteboarder who focuses on creating online media that showcasing everything kiteboarding has to offer!

Jake Keslick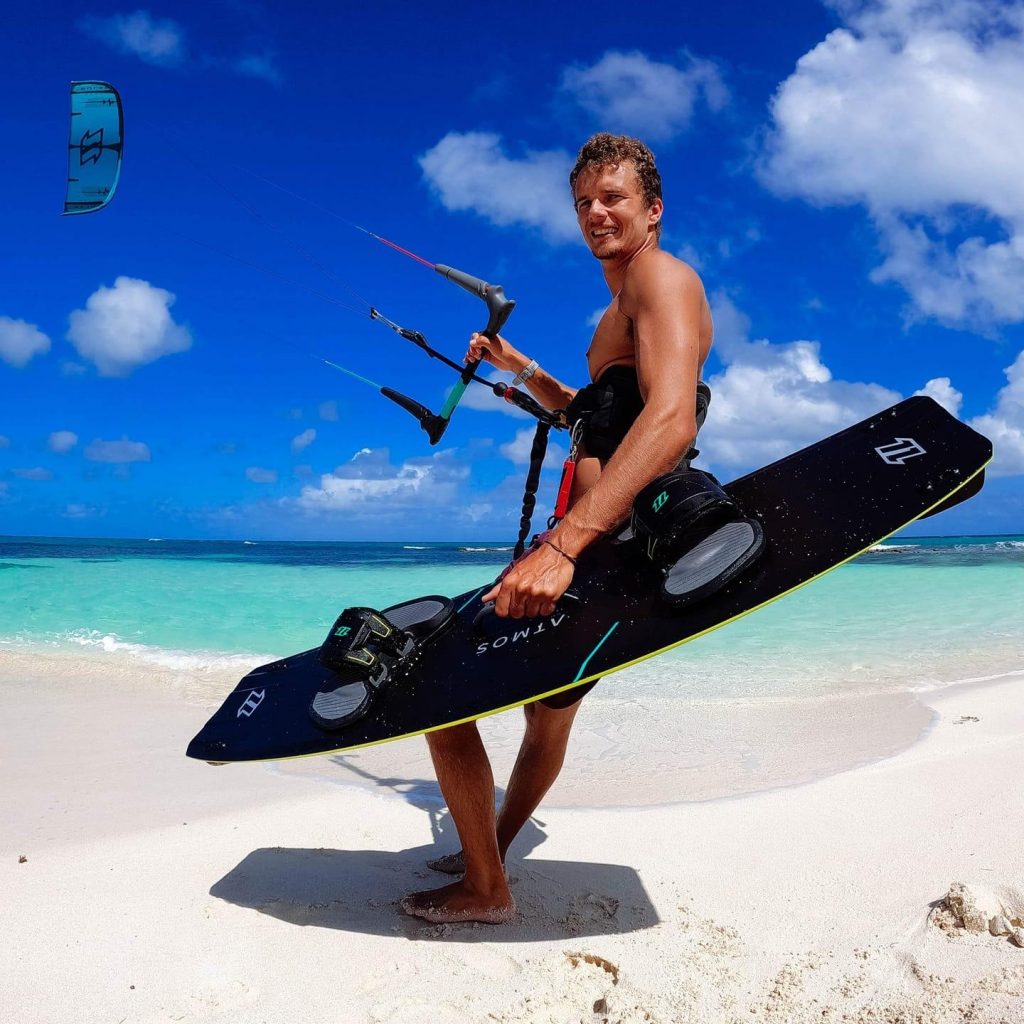 Tell us your life story as seen through the kite and the water?
I started kiteboarding at 10 years old and by 11 years old I decided I wanted to spend as much time kiteboarding as possible. When I first got into kiteboarding I met my now friend and mentor Andre Phillip who was about 10 years older than me and was already well on his way to becoming one of the most influential kiteboarders to date. He helped me out a lot at the beginning of my journey and really allowed me to see what was possible with kiteboarding. After investing over 15 years of my life to the sport it has taken me all over the world. I have been to places I didn't even know existed and have met so many unique and inspiring individuals. And to this day kiteboarding still puts a smile on my face every time I go out for a session. The feeling of being able to switch the world off and go roam around the ocean is something that never gets old.

Jake Kelsick
How does the year usually unfold for you and tell us the most epic kite day of your life!
I spend most of the year/season (DEC – JUNE/JULY) at home in Antigua. When it's good here I don't really feel the need to leave as it's a fun place to shred and a great place for creating a regular flow of videos and photos. But towards the end of the season I always try and get away for a bit, this year we got to go to Dakhla with the Heli crew which was an awesome spot to explore, shoot and shred.

Man, there are so many. But there is one that comes to mind that was extra special. We were in Mexico kiting at a spot called Isla Mujeres which is a small island just off the coast of Mexico. It was a really light wind day with barely enough wind for a kite to fly but we managed to get out foiling. It was one of those sessions that you had to really work for it but it turned into one of the most magical days. We planned to only go out for a quick session but we ended doing a full-on island tour, we foiled around the entire island with nothing but calm clear blue water, saw some turtles waved at people passing on boats, bumped into a pod of dolphins and then decided to foil back to the mainland of Mexico clocking a total of 25 miles. Don't believe me? Check out a video I made about it…

Jake Kelsick
We offer an awesome trip with to Antigua & Barbuda. What are a few things you want people to know about that adventure?
Antigua has a lot to offer as far as a kiteboarding destination. The island is loaded with little bays and beaches, perfect for a beach lime or a private kite session and we are going to see the best of the best! Being on a Catamaran will allow us to roam around the entire island and kite at the most ideal locations for free riding, freestyle and foiling. Once we have had our Antigua fix we will hop over to Antigua's sister island Barbuda which is a like a big swimming pool with nothing but clear glassy water and beautiful white sand for miles. So all in all this Antigua trip should be a fun time with good peeps filled with lots of good times & kite sessions!

Jake Kelsick
To learn more about the growing Heli Adventure Team, check out the overview below.