Tulum, Mexico has been a rare spot within the dive community due to its subterranean world. As mind-blowing as it sounds, this area has rivers flowing underneath the ground that are as clear as day, making Tulum one of the best places to scuba dive in the world. With it being right on the Mesoamerican Reef, which is the second largest reef after Australia's Great Barrier, it provides an absolutely breath-taking experience. Littered with deep open-air cenotes, it allows you to have access to many different underwater caverns and tunnels. Lucky for us, we had a chance to have a conversation with Taryn Schulz (Taz) about how she started her own diving business where she offers personal cavern and ocean diving tours in the jungle cenotes and Caribbean Sea.
Taryn (Taz) Schulz

:

Cenotes Connoisseur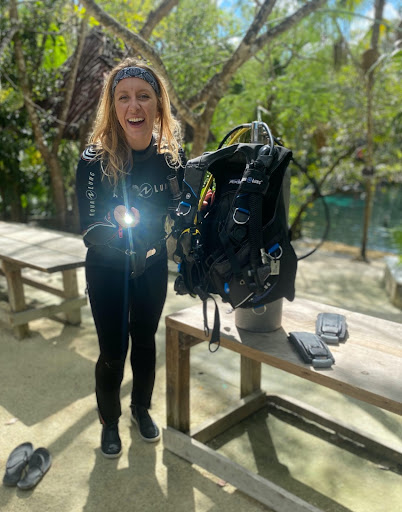 Before we dive in, cenotes are collapses or sinkholes in the jungle that resemble natural fresh water pools. The cenotes are the entrances to the flooded cave system. Taz Diving specializes in cenote/cavern diving and first time diver experiences. We asked Taz, how did this all begin?

After becoming a professional dive instructor and technical diver, I was interested in traveling to Mexico to get my cave diving certification. Turns out, I loved cave diving! So much that I decided to move here to pursue working in the cenotes. I worked for a dive center at first, then decided to start freelancing – to my own ignorance at the time, I thought that meant just getting your own clients. One thing led to another and I became busy enough to start a business here running personalized diving tours and thus Taz Diving was born. My name is Taryn but most people like to call me Taz!

Taz
For most of her life, Taz. It all started in the Vancouver Islands where she landed her first position as a dive professional. Through training and working as a dive instructor in various countries, she immersed herself in the dive world and became surrounded by highly trained technical diver. Through them, she heard about the underground world in Tulum, Mexico. In an instant, she had to go check it out for herself.
When to Come?
Good news, the cenotes offer all year-round great conditions to go out and explore. The visibility is always excellent, you can see as far as the natural light will reach. The water temperature is stable 25 to 27 degrees (75 – 80 Fahrenheit) all year round with no current. The sun is almost always shining in Mexico but the position of the sun can affect the light rays that are the features of certain cenotes. In order to get the prime angle of the sun, May to October is best. To skip the crowds, know that the high season for tourism is from December to March.

Taz
The only thing an all year round operation means is to take out your calendars and circle some dates. Seeing the light breakthrough the waters surface first hand is natural art at its finest. Talum is also home to lobsters, manta rays, reef fish, turtles, eels, and the occasional whale shark can be seen in Tulum's underwater world. If your lucky enough, you'll be able to see these amazing creatures in their natural habitat. Besides avoiding the tourist crowds, there really isn't a bad time to go check out Taz Diving!
What do you enjoy most about running your operation?
The best part about running my own operation is being able to connect on such a personal level with my divers. Exchanging stories about diving, travel, our lives outside of Mexico and much more makes every day new and exciting. I love to share my passion of diving with people from all around the world, and what better way than to spend the day driving from cenote to cenote and checking out mind blowing dive sites with them?

Taz
With all that said, it's very accessible and many boats depart from beaches that are only 10 minutes away from Tulum. From beginners to advanced, diving the Rivera Maya is a spot that must be high on your list. Taz will gladly take care of you and show you all the beauties it has to offer. She wants to provide a personalized and special experience where you can feel safe and comfortable. When looking for your next dive, check out Taz Diving as you will not be disappointed.
Favorite Story?
While there are many great memories and laughs, one story sticks out. Rubi was diving with me for 4 days in the cenotes, and every dive became his new favorite. At the end of his last dive, he refused to get out of the water and just kept saying "Nope!" Our joke to this day whenever we see something amazing is "nope! I'm not leaving".

Taz
This says it all! Safety and having fun are Taz's two main objectives for her divers. She truly lives her passion and there is surely no doubting that. Her work and the reviews she receives are amazing as she continues to create a beautiful experience for everyone that comes to visit her.