The perfect line is sometimes inaccessible by lift or by hiking the side-country. When you look up at a mountain face in Utah from one of their world-class resorts, you're sure to see a promising untouched aspect and dream of the bottomless powder fields just outside the resort boundaries. Queue Powderbird.
Powderbird Heli-Skiing is located in Little Cottonwood Canyon. When you pull up their helipad on Google Maps and see where it's located, you'll clearly notice that they are located dead smack in the middle of Utah's renowned Wasatch Mountain Range, just a short drive from Salt Lake City or Park City, UT.
Their state-of-the-art facilities are located on the Alta Bypass road, conveniently located nearby Snowbird resort and Alta. This means you can easily combine a couple of days at the resort with a heliskiing outing. This also gives them the unique ability to guarantee "Skiing every day." Even in the case of bad weather or high winds that prevent the helicopter from going out, you can ski with the cat skiing backup options or just hop on the lift at Snowbird for a guided day.
Why choose heli-skiing with Powderbird?
Utah has long been known as a powder skiing destination, with the Ski Utah slogan being "The Best Snow on Earth." There's a reason the marketing team for the state tourism board can make this claim. Utah powder is truly unique. The high alpine desert climate, combined with the unique storm systems that funnel into the Big and Litte Cottonwood Canyons, makes for some incredibly light snow. Floating down a steep incline, you'll be enveloped by the stuff, blowing over your head and around your sides, making each turn butter soft and smooth. This is a much different feeling than the often wetter, heavier snow you find elsewhere which when deep can feel surfy, but not light and smooth. This is often deemed "blower" pow because of how light and effortless it is.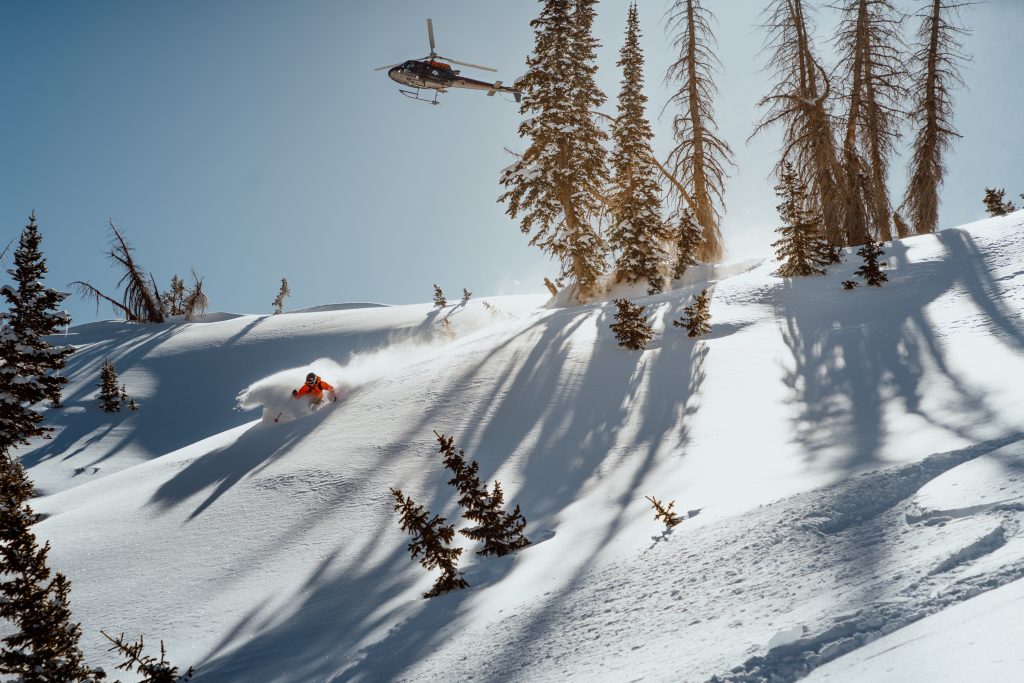 This brings large crowds each winter to Utah. Though there are regular storm systems and huge snowfall totals (which means lots of powder days) the slopes can get tracked out quickly. Lots of locals ski regularly, then there are the Ikon and Epic pass holders that come to the area. This means the resort can sometimes feel a bit crowded and it can be hard to find those untracked lines.
This is a major reason for the success of the team at Powderbird. They offer a day rate program to help skiers who visit the Cottonwoods get to those untracked powder fields. They can take a great snow day and turn it into an epic one. You'll get to escape the lift lines and the rope drops and find pure bliss at the top of some of Utah's highest peaks. The Wasatch Mountain Range is a well know backcountry ski destination. Just beyond the resort boundaries lies a treasure trove of terrain. This is one of the main reasons why guests book with Powderbird each time they come to the area. They know they will have a good chance of getting the goods.