My heart was pumping when our flight landed in Sun Valley Airport. I heard the skiing up here was great, especially in the backcountry, but I specifically came here to experience the Smoky Mountain Lodge. The Lodge is the only remote helicopter skiing lodge in the entire lower 48 states. Otherwise, if you want a remote heIiski lodge experience, you must fly all the way up to Canada or Alaska and then take another significant bus or other ride for many hours. Instead, I just got off work in Seattle, jumped an Alaska Air flight out of SeaTac and an hour later I was landing in Sun Valley Airport.
I arose early the next morning as I knew that I had to arrive at Sun Valley Heli's office at 8 a.m. I was one of eight guests who were about to spend an amazing 4-day adventure at the Lodge. We enjoyed our coffee while our guide walked us through a 45-minute PowerPoint safety briefing. The presentation showed us how to operate around a helicopter, how to ski in the backcountry and properly follow our guides' instructions and how to deal with avalanche situations. It also taught us how to use the safety gear that Sun Valley Heli provides. This includes brand new state-of-the-art Mamutt Batteryvox transceivers and avalanche airbags.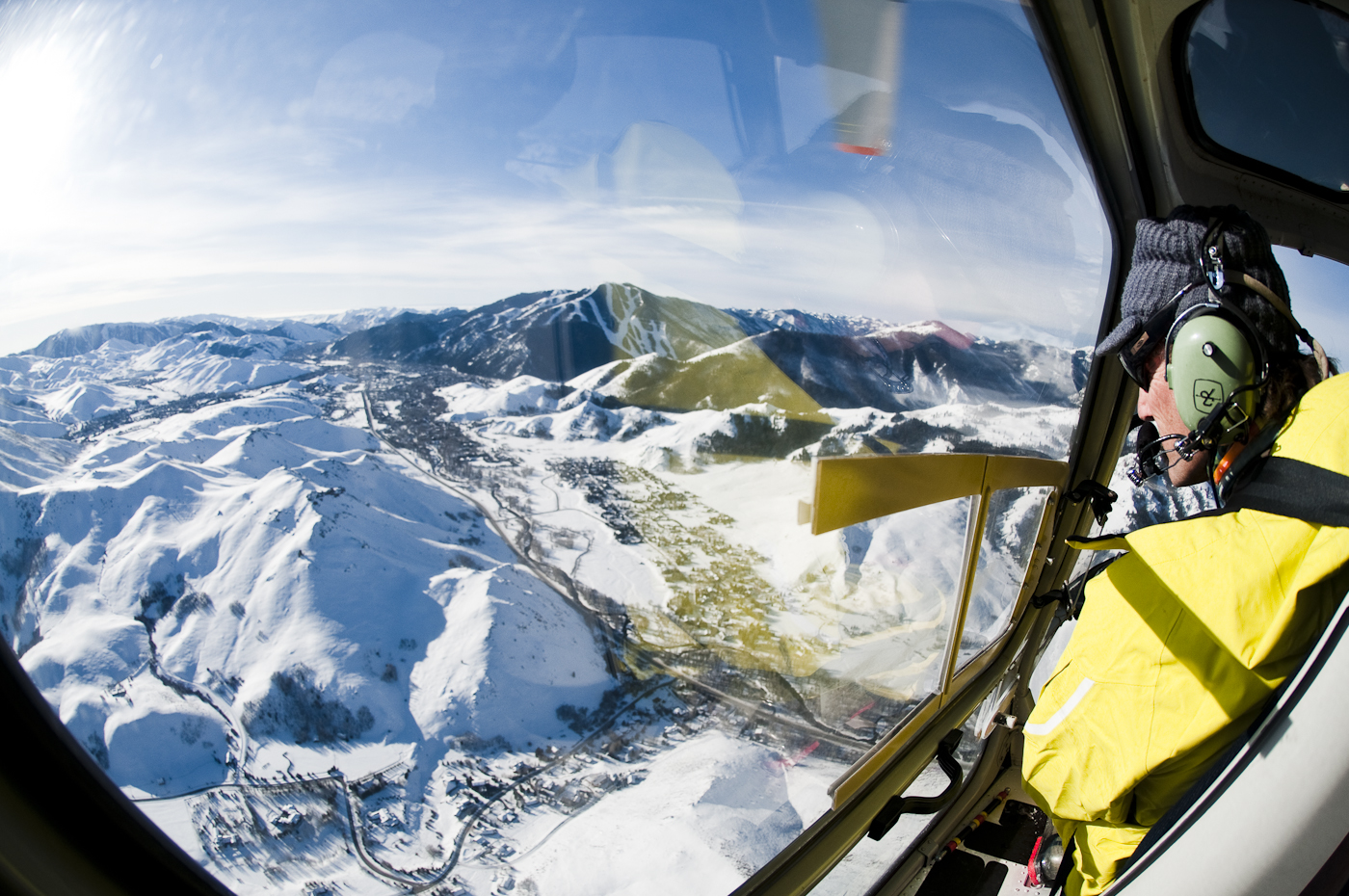 Then it all began. We took Sun Valley's Challenger Lift up Sun Valley's famous Bald Mountain. Waiting for us on the top of Baldy, as the locals call it, was Sun Valley Heli's state of the art A-Star B3e helicopter, the unquestioned Cadillac of helicopter skiing. The helicopter seats 4 guests, along with a guide and a pilot. This compares with many other operations which can have as many as 11 guests per helicopter. Instead, we had a very intimate 4:1 guest to guide ratio. After our group entered the ship, it exploded off the top of Baldy, as our friends and the whole Sun Valley crowd watched. Needless to say, it was a Rockstar experience. Lots of pictures and high fives.
Once airborne, we took a 15-minute ride over the most majestic peaks of the Idaho backcountry. We landed on top of Paradise Peak. They call it Paradise Peak for a reason. If this isn't Paradise, I don't know what it is. The views are off the charts in all directions. As you circle your head around, you have a 360-degree view of the Sawtooth, Boulder, Pioneer and Smoky Mountains of Southeastern Idaho. It really doesn't get any better than this. And this was all before we even started skiing.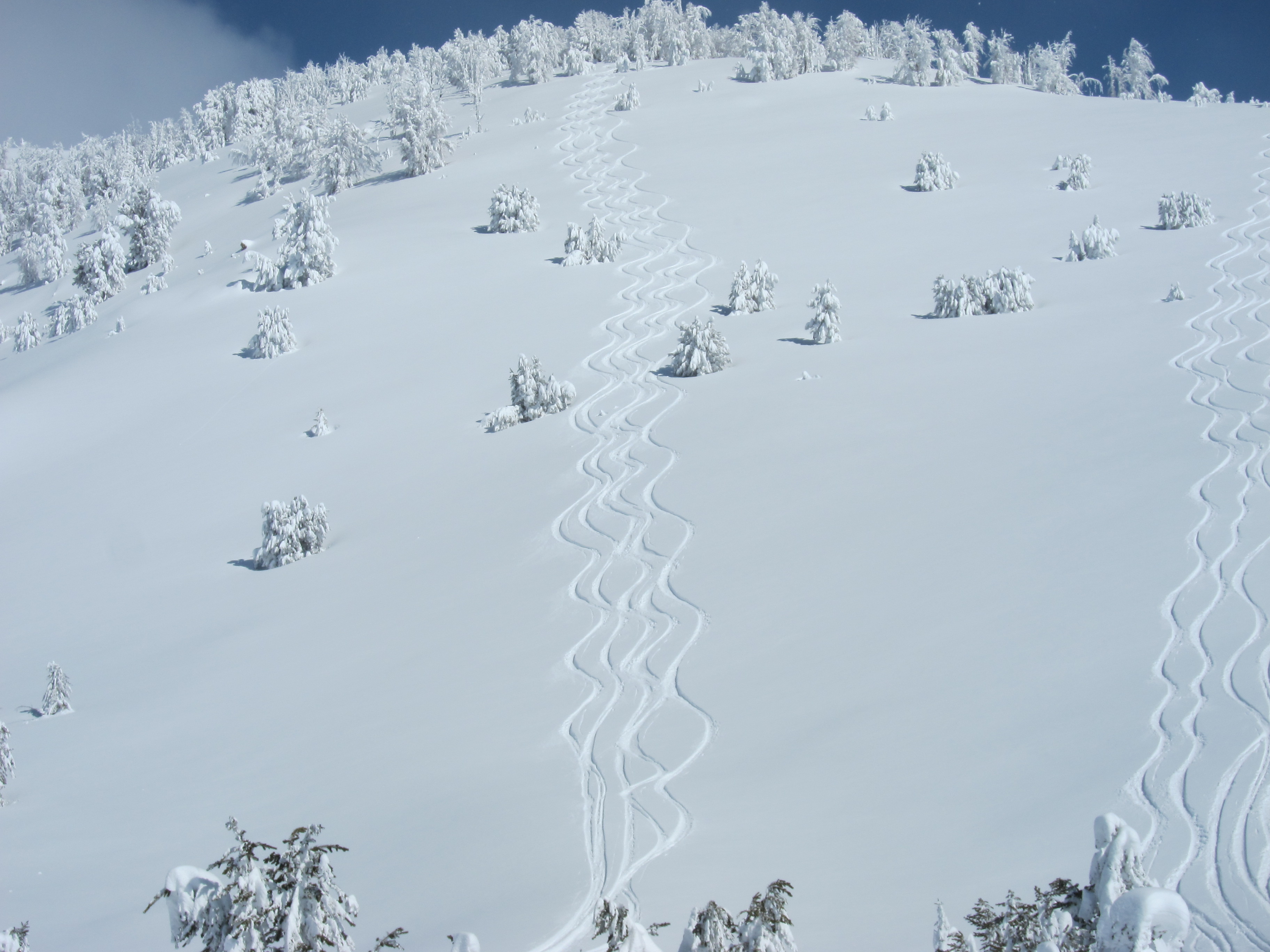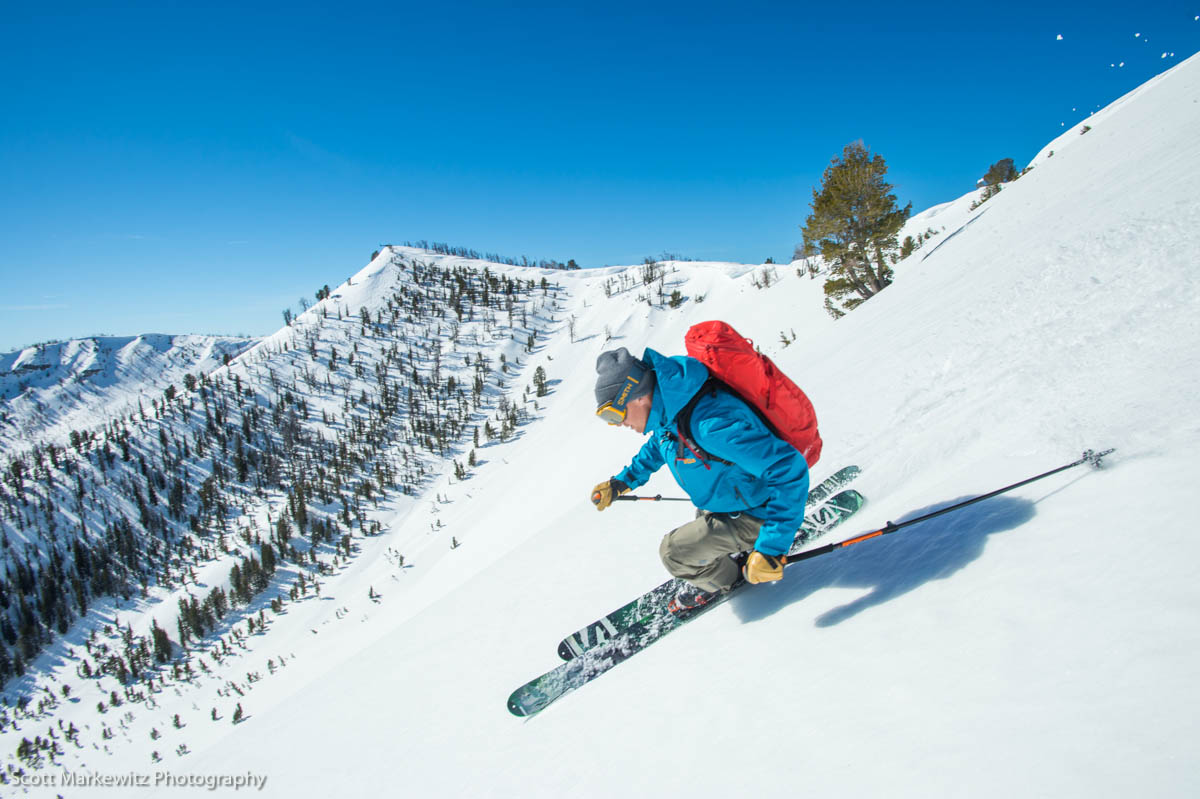 We started out on Bowl Rider, a relatively short intermediate run. It was perfect for us to get our feet comfortable in the snow and for our guides to get an understanding of our true skiing ability. Sun Valley Heli Ski's terrain accommodates intermediate to expert skiing, so it was important for their guides to make sure that they can accommodate the terrain to everyone's skiing ability. Once that was all set, it was game on! We skied Paradise and Newmans Peak, which have wonderful bowls and tree skiing. My favorite run was the Alders, but that was a pretty tough call. After 5 runs, we had lunch at the base of Paradise Peak, sitting in the sunshine basking in the glory.
Since our package provides for 6 runs a day, we had only one left. At this point, most of us were quite fine with that. Extra runs are also available, of course at a cost, but at this point, we were quite content just taking it easy and skiing a wonderful final powder run. After we reached the helicopter pick up zone, the ship picked up us to fly us to the Lodge.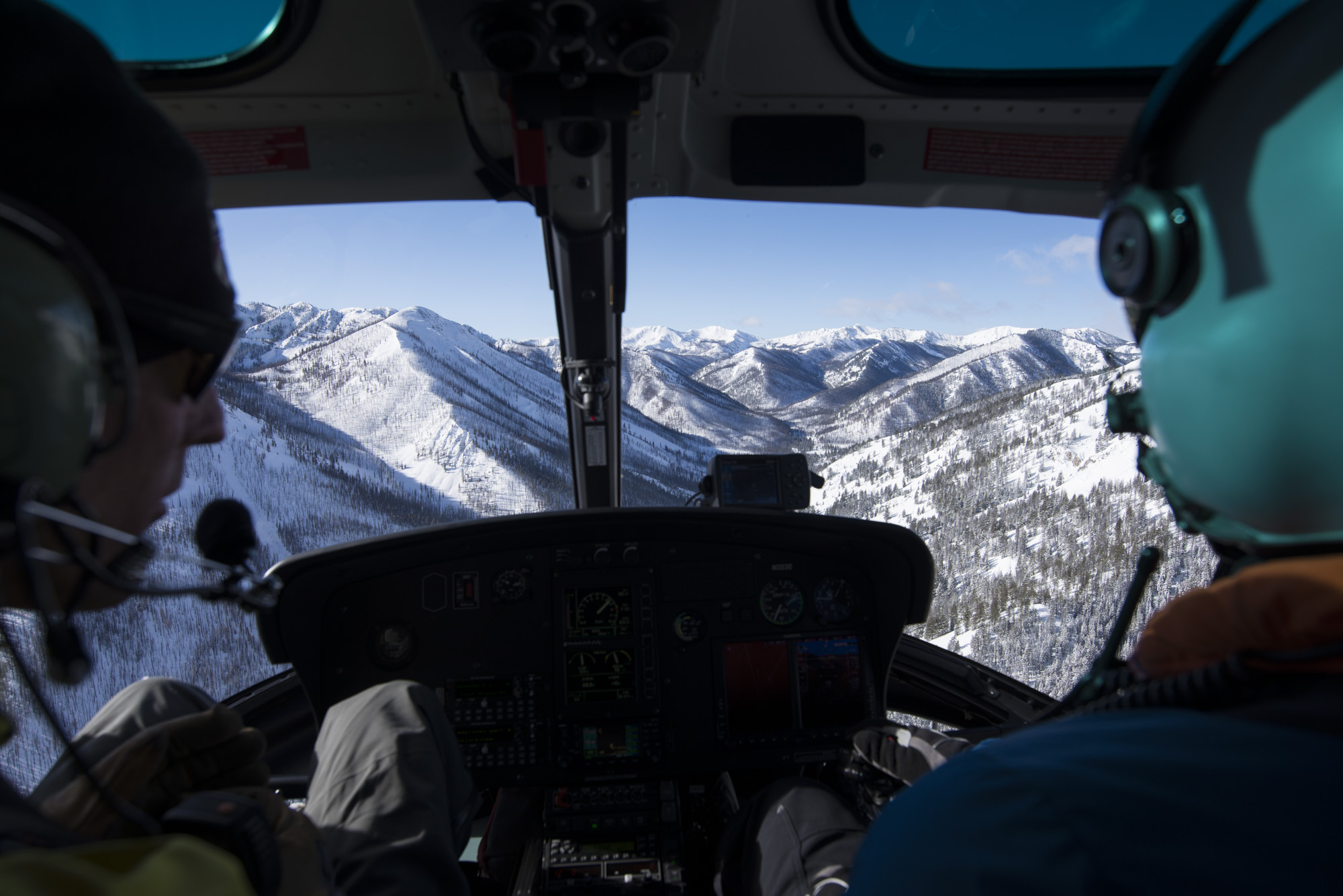 Taking it easy, of course, just meant another 10-minute helicopter ride to the Smoky Mountain Lodge. Once inside the Lodge, we enjoyed all the comforts of home. A hot tub and sauna as well as fine dining, adult beverages, good times with innumerable high fives. We retired to our bedrooms early as we knew we had another amazing day ahead.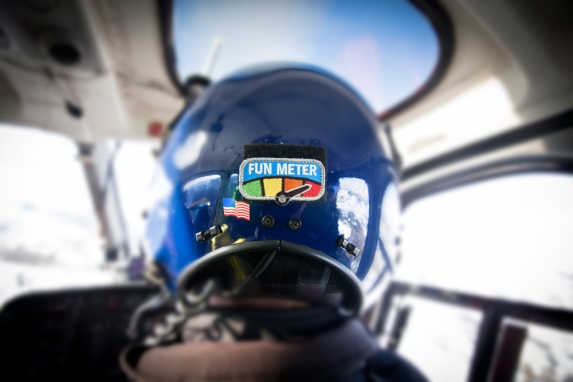 The next few days were very similar. We would wake up to a wonderful breakfast and then go helicopter skiing every day. Sun Valley Heli has an amazing 750,000 square acres in its exclusive US Forest Permit, by far the largest in the lowest 48, as well as most of the Canadian and Alaskan operators. Needless to say, we didn't ski over any tracks as we traversed their numerous skiing zones. As we continued to ski, our guides got to know our skill levels and desires and were able to adjust our ski groups to accommodate everybody's wishes. The guides were awesome. I can't say enough about their avalanche skills, backcountry expertise and hospitality. At the end of each day, after the helicopter flew our exhausted bodies back to the Lodge, we were left to enjoy all the wonders that the Smoky Mountain Lodge has to offer.
Finally, at the end of the last day, we sadly returned to Sun Valley. We spent the evening whooping and hollering in this wonderful iconic ski town before heading back to our own realities in the morning.